Hair product or serum is one of my best friend to tame down my bad hair days. Who would like to live with bad and damaged hair? When Kao Liese hair products was launched here, it when in a hype. A special thanks to Watson for fulfilling my wish to get this. Both
Kao Liese Juicy Shower Moisturizing Mist
and
Hair Cocktail
does have a very attractive packaging. The best is you couldn't ignored the scent~~ :)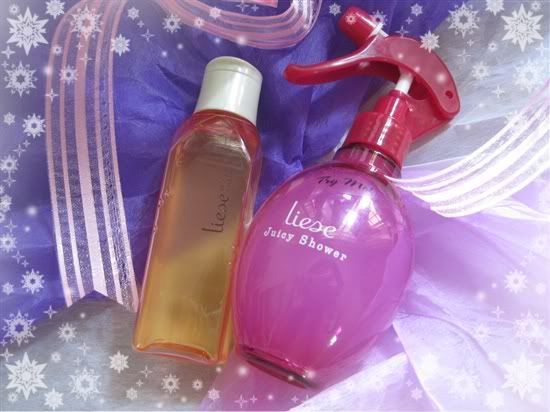 Kao Liese Juicy Shower Moisturizing Mist
They say:
Liese Juicy Shower is a natural berry shower mist that gives hair a quick boost of moisture anytime, anywhere. It is uniquely formulated with raspberry extract to instantly quench dry, rough, and damaged hair and smoothen all frizziness. Hair will become smoother and softer over time with HBT (Hair Beautifying Techonology). The refreshing berry scented water-base spray invigorates senses with every spray while enabling a fuss-free quick fix to the hair.
This Juicy Shower spray is very addictive!! Especially the yummylicious berry smell. If you're a berry lover, this is for you! The smell is not too strong like perfume so the smell will only last you a while. But the smell is just so yummy!! Can't you imagine how good the smell of your hair is after a bad hair day? :D
The main point is that this shower mist which are needed to hydrate your hair and soften it by the end of the day. Imagine when how your hair look like after lunch time in office? Your hair could have been so dry under the air-conditioned. Therefore, your hair need this!! I usually spray it on in office which my workstation smells berry too~~ :p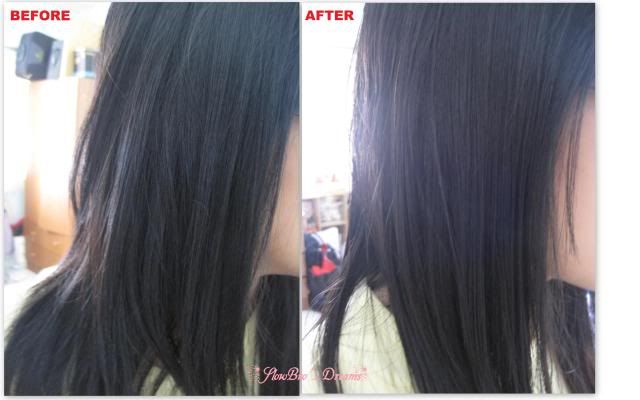 The picture above show after one spray without combing my hair, I just use my finger to tame down my hair. Viola!! Nice and smooth~~ When I said this products were addictive, yes it is. While you spray it on, you gonna feel like a small shower watery feeling on it which makes you feel good and refresh. :)
Packaging: 5/5 Cuteness!!
Value: 4/5 I found that this product finish quickly. Maybe I used too much?
Price: 4/5 A bit pricey
Overall: 4.5/5 Me likey!!
Repurchase: YES!!
Liese Hair Cocktail
They say:
Revolutionary bi-layered hair serum with nourishing water and anti-frizz oil that combines easily with a few shakes. The serum is easy to spread and foams an even coat on each strand of hair.
Filled with peach leaf extract and prune essence, this rich serum is suitable for extremely dry and damaged hair. Lightly scented with refreshing tropical fruity scent. Can be used on damp or dry hair.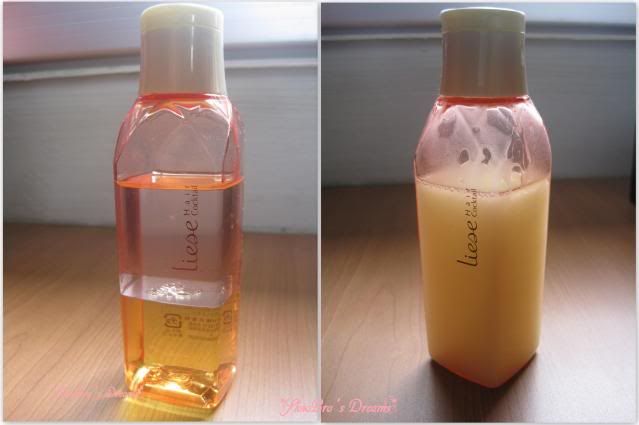 There are two version of hair cocktail. The one I got is the heavy version while the green one is the lighter version.
Liese's Hair Cocktail
is a dual phrase product, the first layer of the serum is an anti-frizz oil, while the second layer is nourishing water. The product has to be shaken well in order to mix the two layers together. And it will look a bit like mango juice after it's been shaken.
My Say:
Like the Juicy Shower, this Hair Cocktails smell divine too. As like the name, it smells alike fruity cocktail. The smells of peaches is wonderful and it makes me so wanna eat my hair.
(Haha XD).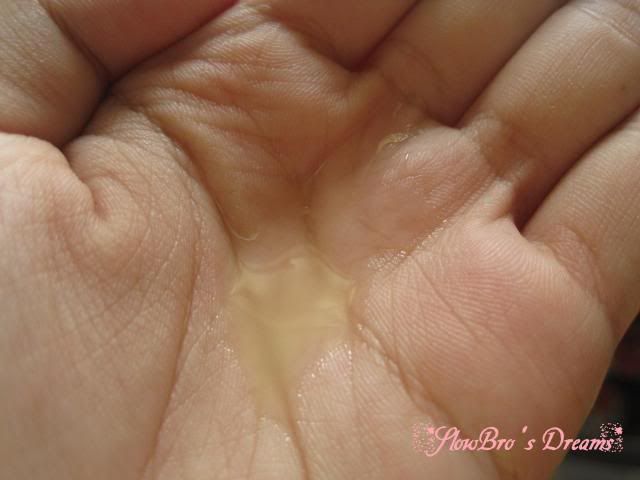 I only used a few drops at the ends of my hair and it looked smoother and frizz-fee. Look how my hair looked like after using it?? The texture is kinda light, non sticky and keeps my hair frizz free.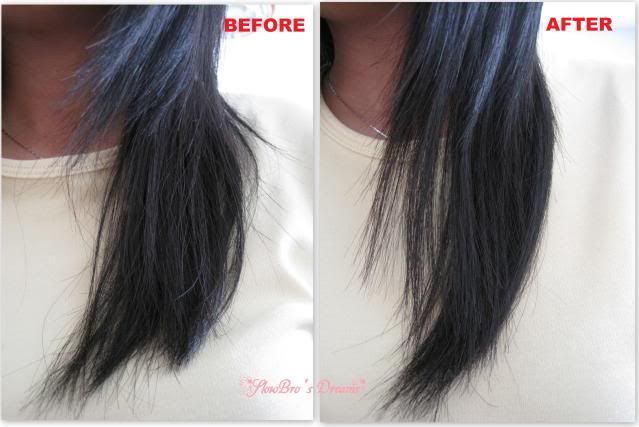 I would suggest that it will work better if you have dry hair because otherwise, you might feel its too oily and might weigh your hair down. Because at the end of the day, I felt it is too oily for my hair.
(Or maybe because I applied a lot??)
Packaging: 4/5 Would prefer it to have in pump so we could control the amount we use
Value: 4/5 A bit oily for me though
Price: 4/5
Overall: 4/5
Repurchase: Maybe