Once in a while, woman deserve to be pamper! Spa, manicure, facial is one of the list! Due to my tight work schedule, I haven't been to a proper facial for years. (Yes, years!) So recently, I had a chance to re-visit Cres Wellness
at Johor Bahru branch. If you have been following my blog, I used to visit Cres Wellness previously and some of their facial are really good.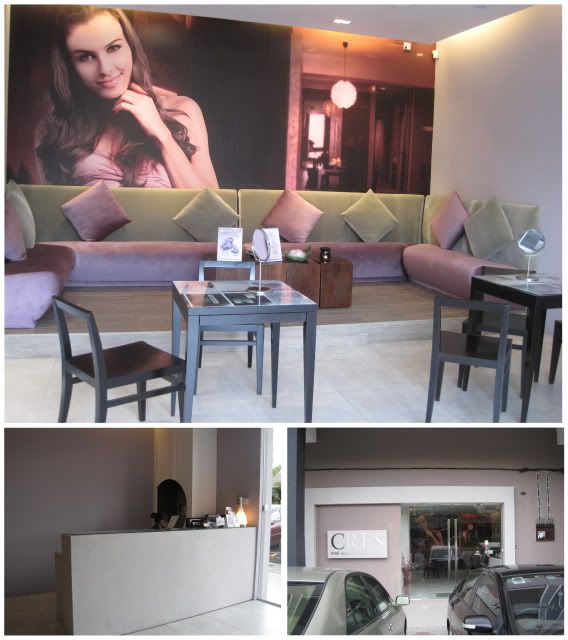 This visit I was more than happy to try out their latest facial treatment -
Reversal 24 Therapy
that promises to restore skin elasticity, reduces lines, wrinkles & increase firmness! The Reversal 24 Therapy is specially formulated for those facing aging skin, sagging problems, fine lines and dull-looking skin problems by providing touchable and visible results within a month of usage!
Note: not suitable for those with oily/acne skin type.
1) Precision Lift & Firm Concentrate which is proven to further enhance the synthesis of collagen for increased skin elasticity & improved firmness,
2) Precision Lift & Firm Serum, the revolutionary lift-up essential in every anti-aging skincare routine that protects and revitalizes dermal cells and diminishes pre-mature wrinkles and other signs of skin aging which is finally followed by
3) Precision Lineless Essence Masque that is incorporated with a unique anti-wrinkle Botox alternative to smoothen and reverse the appearance and formation of expression lines and wrinkles. So start your first line of defense against the battle of time and be the last woman standing!
The duration of the facial is approximately 120 minutes. For this treatment the beautician
concentrate more on applying layers of serums and masks with the help of the machine/tools which they called it as Cold Hammer. The machine treatment was after the Precision Lift & Firm Serum. It was a cooling and very soothing treatment that I really enjoyed.
Here's some of the active ingredients, in case you wonder.
After reading all the infomation, you must been wondering how's the result? Here you go.
Picture was taken raw/ unedited with 100% no makeup
My dark eyes circle look like I had an eyeshadow on! LOL
I took a pic before the treatment, after and the next morning after the treatment. After the treatment, my skin looks much more smoother and brighten up. This treatment is targeted to reduce wrinkles, fine lines and firming. Therefore, if you take a closer look towards my nose area, my fine lines are less prominent after the treatment!! There are some redness on the skin due to the extraction but the redness go off after a few days.
I really enjoy doing facial at Cres Wellness as their service and beautician skills are quite good. If you're looking to get some pampering and give your skin a new lift, you can definitely give this a try.
The normal price for this facial cost about RM288 but now they have promotion for only RM118 trial for this facial. If you asked me, I think this is a fairly good price to consider for 2 hours facial! Do give it a try~
Click on the image for free trial
For more info, please visit the below:
The outlet I went to:
Cres Wellness Johor Bahru, Taman Desa Tebrau (Right behind Aeon Jusco)
07-3577012
*** This review were sponsored for

consideration

by PR. Please take not that I am not affiliated with this company and review stated are based on my honest opinion. Please proceed to read my disclaimer policy if you do not get my means. ***