If you're into K-beauty, I bet you've heard of the company - Memebox, a very famous Korean beauty curated box that brings you the latest K-beauty trends and products worldwide. Recent years, Memebox started markets its own products with popular Youtube "Beauty Gurus".
The recent success will be the collaboration with Pony -
"Pony x Memebox"
collections. There are a few collaborations previously but the recent collaboration is the one that I am attracted to and will be sharing with you girls!
Memebox x Pony Blossom Lipstick Collection
Source: Memebox.com
Who is Pony??

"Korean self-taught MUA and the winner of "2011 Makeup Artist of the Year Award", Pony is one of the hottest beauty icons in the industry. Her passion for beauty is evident on her YouTube channel Pony's Beauty Diary where she delivers the hottest K-Beauty trends. She teamed up with Memebox to design products that are beginner-friendly and can glam you up instantly- Shine, Easy, Glam."
I love her makeup and Youtube videos at Pony's Beauty Diary!
Check them out and I will say you will definitely fall in love with her.
It says:
"Formulated with white flower complex, honey, and Shea butter to keep your lips moisturized and supple, this pigmented lipstick has a glossy finish with just enough lustrous shine."
There are 4
colours
available. #01 Rose Garden & #02 Spring Romance with semi-matte finish and #03 Orange Dahlia & #04 Blooming Love with glossy finish.
Packaging:
To be honest, the main reason why I'm attracted to this collection is mainly because of their packaging! The sleek "White" & "Gold" color combination make it look luxe and attractive. Not to mention the ads, of coz!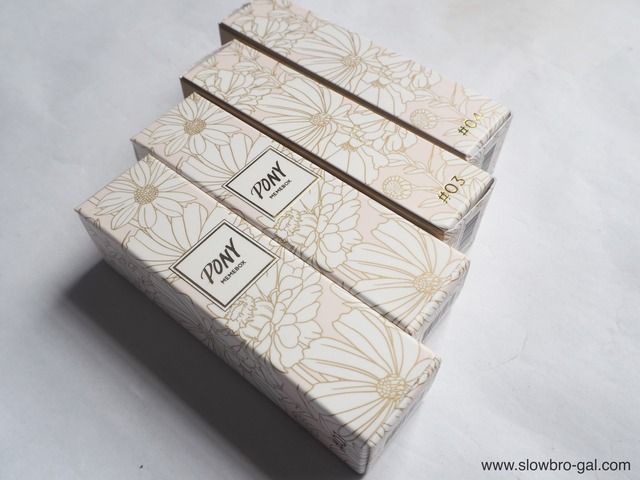 The beautiful floral packaging that suits the theme! The packaging was written in Korean which I am not very well-versed in though. But they do state the color in the packaging by number.
With the size of 4.5g for a lipstick, I think it is more than enough.
The white packaging and cover is made of light plastic. The gold part might leave some fingerprints on.
Unfortunately
, no magnetic on the lipstick cover - which is good because it feels very light in your makeup bag.
Texture & Swatches:
I couldn't resist the packaging so I actually get all 4 colours that are available in this collection!
#01 Rose Garden (Semi-Matte Finish)
#02 Spring Romance
(Semi-Matte Finish)
#03 Orange Dahlia (Glossy finish)
#04 Blooming Love (Glossy finish)
Here's the swatches on my hand (NC25-NC30 skintone)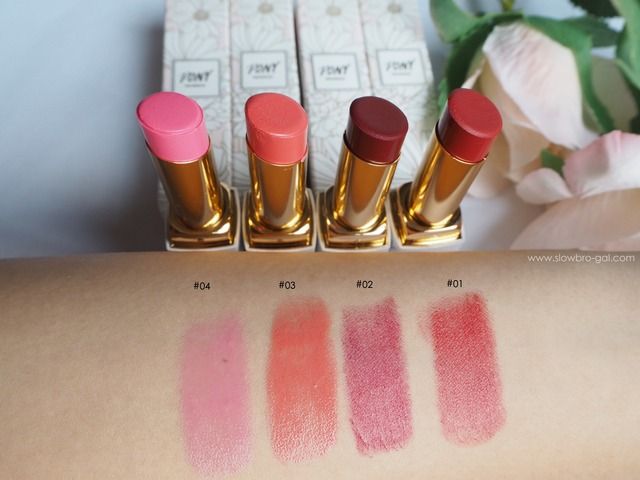 The texture of the lipsticks for both glossy and semi-matte finish are very pretty similar. All colours glides smoothly on my hand and the color are buildable. It's pretty hydrating and feel much like a lip-balm texture than a normal lipstick that I had.
However, due to its balmy-texture it doesn't last very long on my lips. For the semi-matte finish - #1 Rose Garden and #Spring Romance both lasted longer (about 4 hours) than the glossy finish - #03 Orange Dahlia and #04 Blooming Love ( 3-4 hours). So you may need to re-apply along the way.
Oh! In case if you're wondering how these lipstick smell, it has a vague fruity smell. You gonna bring the lipstick towards your nose to sniff it to smell it though. Other than that, I don't think I am able to smell it. :D
My lips is pretty dry to begin with. So I am used to apply lip balm prior to my lipstick application everyday. Color pigmentation on the lips is pretty much depending on the finish. Both glossy-finish lipstick glides smoothly and appears very well on my lips whereareas the semi-matte, it might takes about 2 swipes to get a smoother pigmentation on.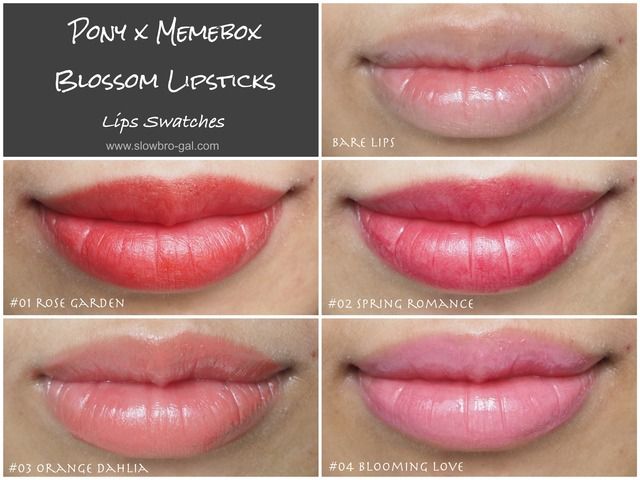 (PS: First time during a proper lip swatch , sorry if it was bit ugly!)
All the colors are very pretty!! It's very suitable for Asian skintone like me. Even both reds are very flattering on me. :D *self-praised* However, I was expecting a better consistency on its pigmentation and formula. If you realized on swatches above, both semi-matte lipsticks tends to be a bit patchy when you glides on the lips more than 2 - 3 swipes especially #02 Spring Romance.
I don't have the same problem on the glossy finish lipsticks but since it was a lip-balm texture, it tends to be bit creamy and thick if you apply more layers.
To be honest, my first choice is #03 Orange Dahlia because I love the Corals!! But after wearing them, I like both semi-matte colors even though it was a bit patchy on application. It can be fixed by apply much more lip balm before hand.
Conclusion, I do like them but I don't love them. They're very pretty lipsticks to own especially their packaging and colors. I got these lipsticks at around S$10 each so for the price of the lipstick, it is pretty good.
You could purchase them on Memebox.com
at $12 each or alternatively I bought it from the seller name MiniBox- a very nice and sweet seller!
Next, I will be sharing the review of the eyeshadow palettes as well!!
Stay tune for it!
*** This review items
were purchased by my own. Please take not that I am not affiliated with any of the company and review stated are based on my honest opinion. **