It's been quite a while since I actually purchase something from MAC Cosmetics. The speed that MAC released their new collections is hard for me to keep up with! As far as I remembered they have Maleficient, Alluring Aquatic, Pedro Lourenco, Moody Bloom and Osbourne series. And that's quite a collection for me to look into within a one - two months. :(
My partner-in-crime was strolling around at Sephora in Singapore and spotted these items in the MAC counters. Immediately she whatapps-ed me and that sparkles my interest almost immediately because it was something that I have not heard or seen it anywhere. Not in the states as well. *rolled-eyes*


Apparently according to the SA, these are the limited edition 2014 exclusive boxed set, a few of them full-size items which are new, and a couple of hard-to-find limited edition shades from previous releases. O_o (Does that sounds tempting to you??)
Pic Credit: @makeup_box
They have a couple of brushes and 2 eye/lip palettes for sale. But what interest me the most is the
Look In A Box: All About Coral!!
(S$85)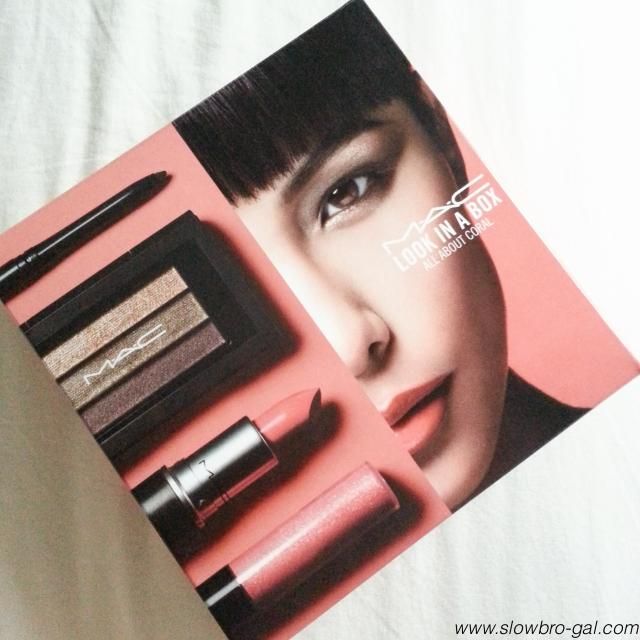 There are 3 different kit of MAC Look in a Box: All About Pink, All About Coral and All About Nude. In the kit, you have 4 full-sized item according to the color range. All of the kits are so pretty especially their lipsticks which is my main deciding factor.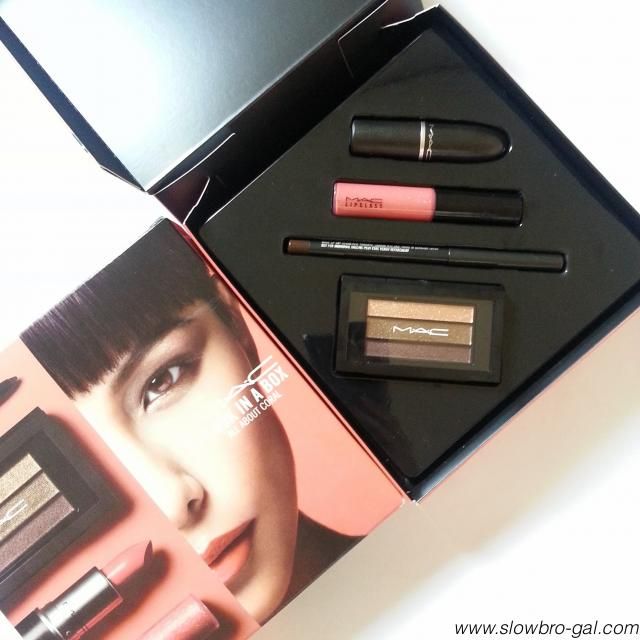 I chose All About Coral just because I fall in love with the lipstick the very first sight. Talk about Love at first sight. :p This set contained 4 items (Eyeshadow trio, Technakohl Liner, Lustre Lipstick & Lipglass) Let me show you what's inside:
Passion Charge Lipstick (Lustre, New & Limited Edition)
This is the main reason why I give in and get this set! The soft beautiful coral lipstick is just so irresistible
! And according to my friend, Lustre range has the best formula of all MAC lipsticks. It is very smooth and more moisturizing than the other range though it is run a bit sheer but buildable. What's more it is a new color released from MAC and it's Limited Edition?? =D
Stoke the Flame Lipglass (Frost, New & Limited Edition)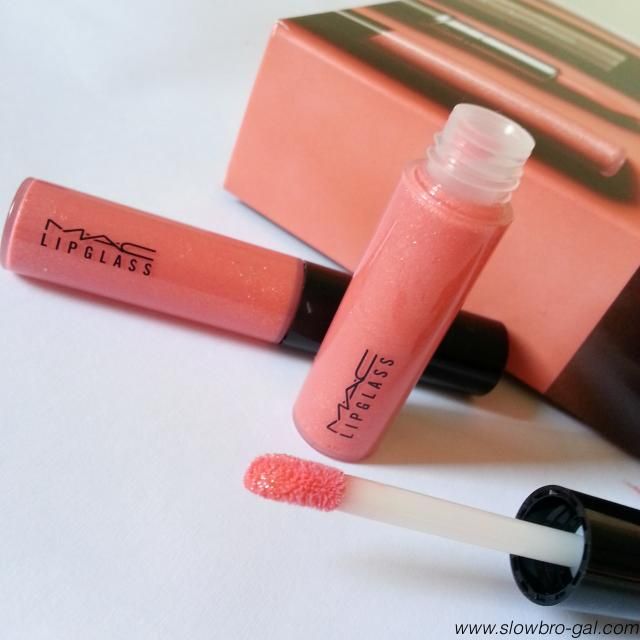 Believe me my first thing I bought from MAC was their Lipglass. It was some dark brownish red lip color that I never like. It was actually recommended by the MAC SA and I regretted listen to her because I didn't like that color and sold it away after so. Those were days I started to learn about makeup.
Back to this latest Stroke The Flame Lipglass, this color is pretty much similar to Passion Charge lipstick except it has bit glitter particles and it is more pigmented.
And here's the swatches on my hand: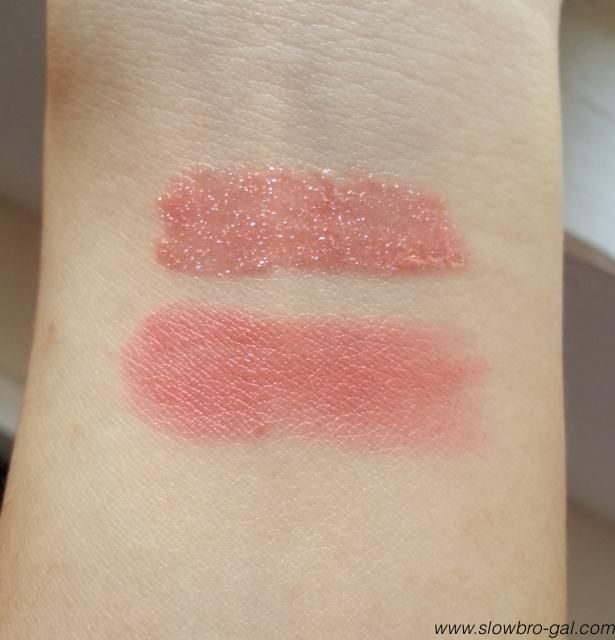 Top: Stroke the Flame Lipglass
Bottom: Passion Charge Lustre Lipstick
What do you think?? Isn't it pretty?? =D I've been using this lip combo for a few days to work and I really love it! :)
Veluxe Pearlfusion Eyeshadow Trio in Collective Chic (New & Limited Edition)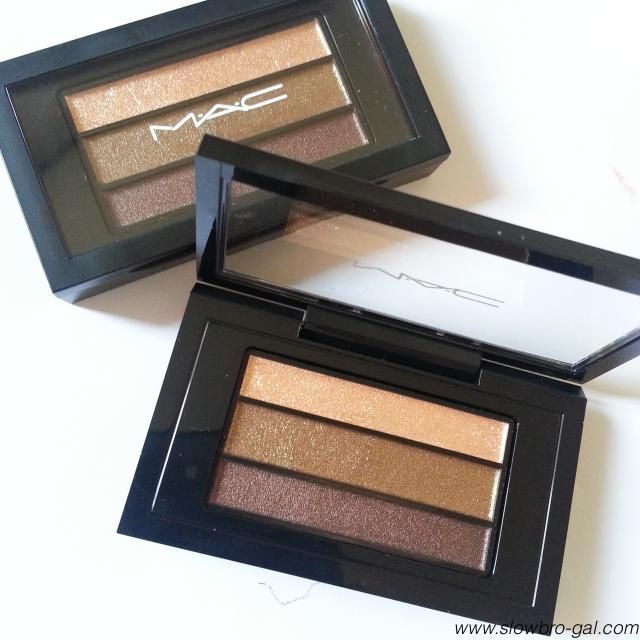 MAC did very well in coordinating the colors of the eyeshadow with the lip colors in the set. The frosty metallic colors match perfectly with the coral lips. The eyeshadow are very pigmented, soft and glides smoothly. The only thing is I find it kinda small, so you need to use a brush/sponge to pick up the products. It's a very natural and perfect eyeshadow for everyday makeup.
This was selling in the MAC Counters for US$16. The dark chocolate brown mechanical pencil-style liner which is smooth and creamy is definitely goes well with the eyeshadow palette. I really like how it glides so easily on my eyes even for tightlining. Only if it is smudge-proof, it will be perfect :)
And so here's the swatches for both eyeshadow trio and eyeliner: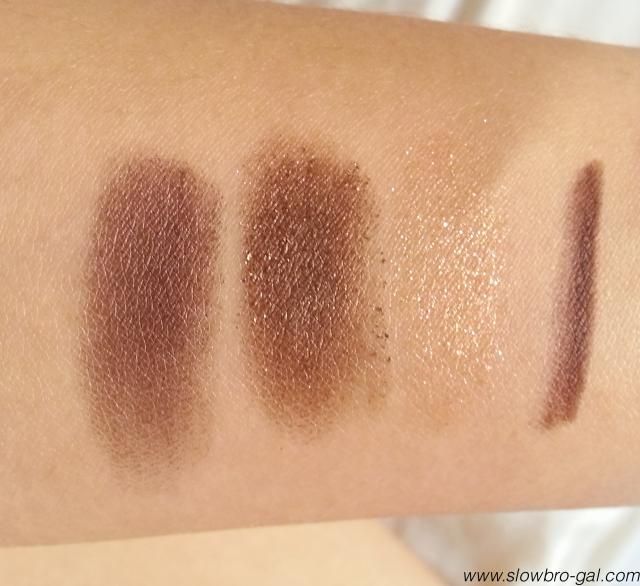 It is quite natural isn't it? Love those brown!! :D
Overall, this is fo
r the price of S$85 per box, it's definitely worth to get because you're getting a total of S$150 worth of full-sized items, which some of it are Limited Edition and were not sold separately.
I personally think the box All About Coral is very good for everyday makeup look. You can never go wrong with this shades. It is a best buy as a gift for your friends! I actually bought another set for one of my very very lucky friend because her birthday is coming soon. So grab yours now before it is sold out! Now I am really tempted to get the Pink Box, should I or should I not? *evil grin*
Update:
It is now sold exclusively in Nordstrom for US$39.50 and other places.
Malaysia have them now at RM168/set too!
**Also all pictures above are taken using my phone Samsung Note 2. Therefore, the quality might be a bit bad compare to my normal cam. :)