BB creams better known as Blemish Balm is pretty much the a product with all of foundation, concealer, moisturizer, primer and etc. I've stopped using BB creams for months because those BB creams I have in my stash tends to oxidize and turn greyish on me. It was a nightmare when I started realize it clogged my pores!! I decided to pick up this tube during Watsons sale. No harm trying this drugstore product right?
They say:
Maybelline Clear Smooth BB Cream 8-IN-1 Skin Transformer.
Our instant skin perfecting Cream is a perfect blend of 8 minerals ingredients. Our unique shade instantly improves and perfects your skin:
Brigthens skin: visible whitening effect
Covers imperfections: reduces the appearance of pores, skin redness disappears
Moisturizes + Protects: all day hydration + helps to protect skin from UV rays and free radical
Packaging:
This BB cream comes in a little plastic green of 18ml tube. Seriously 18ml seems very little eh??
The tube comes with a twist-to-open cap and a small nozzle. The small nozzle helps to control the amount of product when you squeeze.
Ingredients: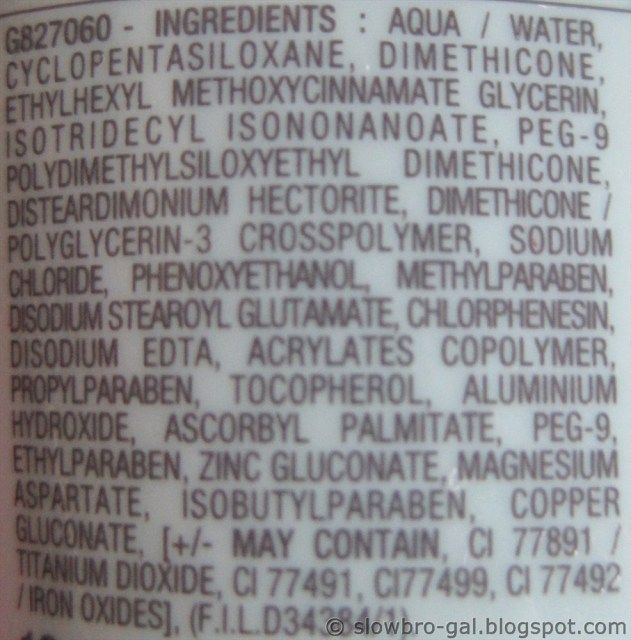 Texture/ Swatches: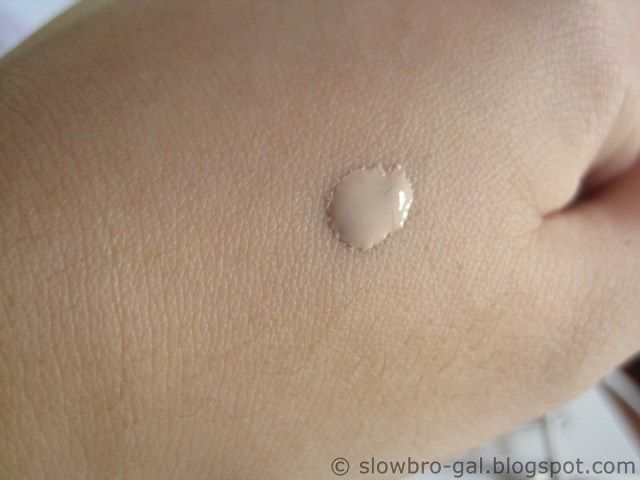 Freshly squeezed from tube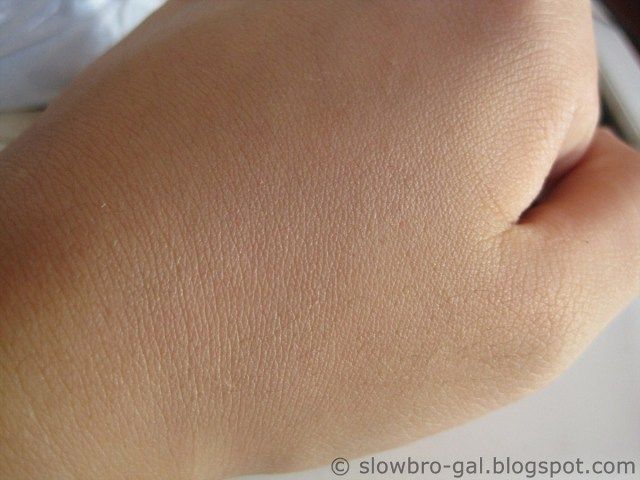 After spreading them
The texture the BB creams is surprisingly quite creamy at the same time watery. So it makes the bb cream much more easier to spread on skin. The color I have is
#01 Fresh
, it may look very fair on my skin at the first glance. I was quite surprised that the bb cream actually dissolved into my skin looking transparent with a slight glow.
My say:
When I bought this BB cream, I don't have a high expectation on it. But once I used it, I am quite surprised that it works wonderfully on me. The #01 Fresh shade I have surprisingly matches my skin tone perfectly
(my skintone is NC25 - NC30),
and I think #02 Natural shade is much suitable for darker skintone. It's really hard to find bb cream that suits for darker skintone in the market. Another plus point.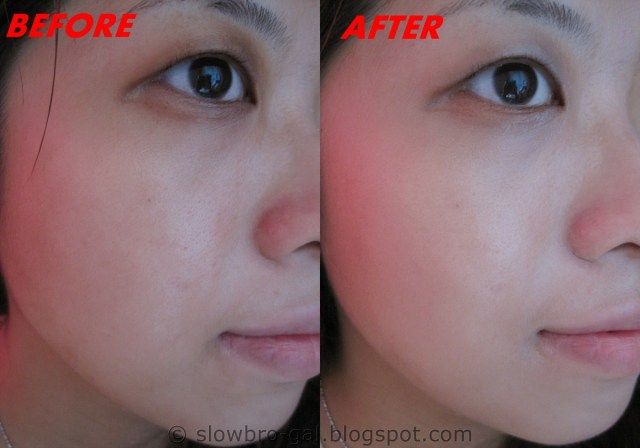 Before and after application (without any base and powder)
A little goes a long way. Just a few dots of the bb cream on my face, it could
covers the imperfections
such as redness on my skin, uneven skintone and a few acne scars - leaving my skin a
semi-matte finish
. Looking at the picture above, the coverage is nothing fantastic but definitely good enough in even out my skin tone. The
coverage is light to medium
, so if you have a really bad dark eyes circles or pimples you might need to use concealer to cover them.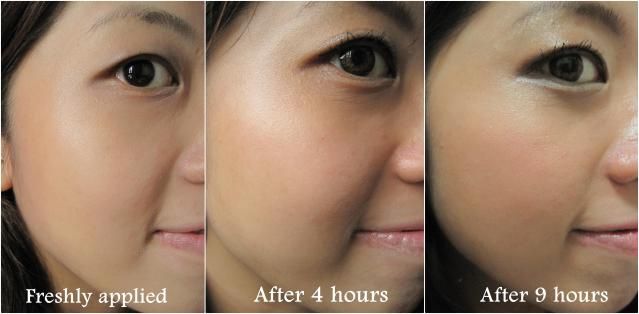 Look at the picture above,
the bb cream does last on my skin for the whole day. The
oil-control are quite okay
as my face gets oily after 5 hours of application. Mind you, I do not blot and touch-up my makeup at all. Therefore, it was quite awesome that it could last the whole day for me.
To my surprised, this BB cream
doesn't leave a white and grey-ish
cast upon application despite it has SPF 26 PA++.
*thumbs ups*
One thing I really like about this BB cream is that it
doesn't oxidized at all
. No greyish face and it look super natural on me unlike the other bb creams I have that make me look like I am very a mask. I've been using this BB cream months ago everyday and I am very happy to say it doesn't clogged my pores. *Hooray*
Rating: 4.3/5 Me likey!!
Overall, this is a very good and affordable drugstore BB cream I've encountered so far. I really like this BB Cream so much that it become my everyday staple. One the days which I don't want to use my foundation, this BB cream definitely on the first list. I already finished one tube and re-purchase another one. So, I would definitely recommend this BB cream if you want to have a light and natural bb cream.
This BB cream are available in most Maybelline counters with two different shades and it priced at RM22.90.