The beauty box subscriptions are trending now in our blogsphere. I've been getting into this box as well for one of the brand here and now my first ever box all the way from HK - Glamabox. Glamabox

started by Lisa S (our handsome actor Daniel Wu's wife *coughs), it is based in HK and had been very popular there. (Many bloggers even reviewed about it).
How this beauty box subscription works? Every month, you only need to pay S$18 for this box which has about 4-5 beauty products hand-picked by Lisa S and delivered to your doorsteps.Sounds good and easy? Ladies who love surprises and love to try on new products sample would love this box!
Another pink color box?? I like the box design but it kinda ruined during the transit from HK. Unlike Bellabox, it doesn't come with additional box inside - which is more environmental friendly i guess?? My first impression when I got this was: "why is this so light?" *disappointed* Eventually, the box I have is for Christmas/December box. (Not sure why the delivery kinda slow - I received it on Jan 2012)
Then I proceed on opening the box like pizza. *heart pumping fast*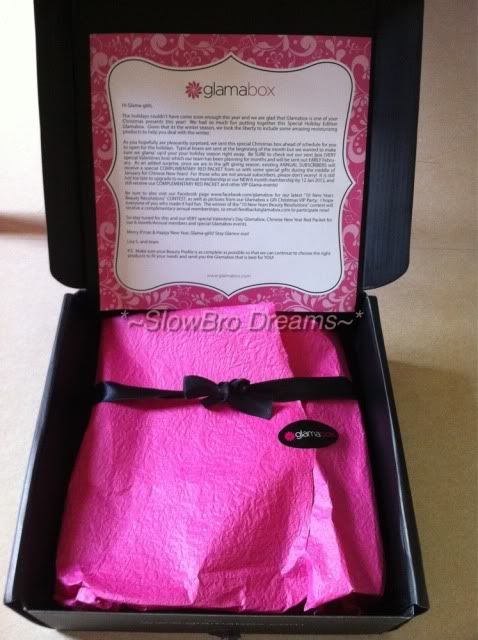 Aww..the packaging look so cute~~~ They wrap it with pink paper and tied it with black ribbon on top. They also insert it with a welcome note in bi-lingual (English & Mandarin). But they did not showcase any of the product information which I find it quite very troublesome because I would love to know the name, usage and the price of each products.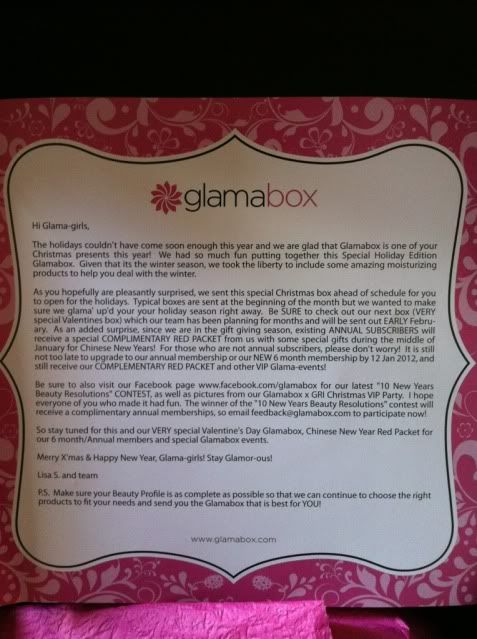 Anyway, if you're hardworking enough, they do showcase the product info in their website.
Feel curios what's inside? Let's see~~
Ta-da!! It's look sparingly-filled inside. Probably this is the reason why is very light-weighted?? But the products look very promising.
Perfective Ceuticals Anti-Imperfection Eye Therapy Cream with Growth Factor (15ml for S$140)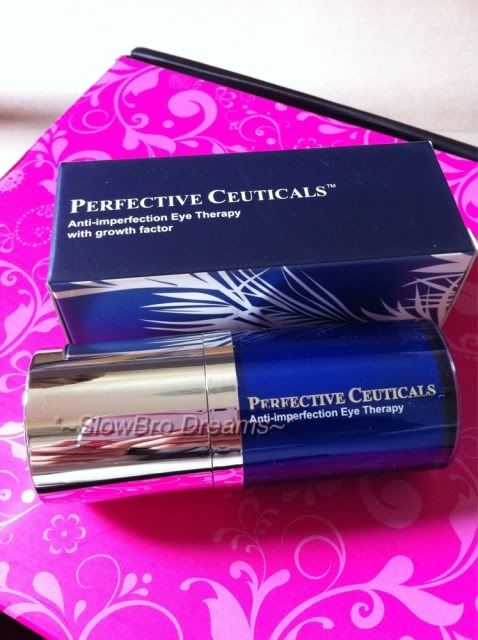 I can't believe they actually give this in full-size. Just in time I am looking for a new eye-cream. Hopefully this is good. :))
ElishaCoy Skin Reparing Snail Cream (7g for S$21)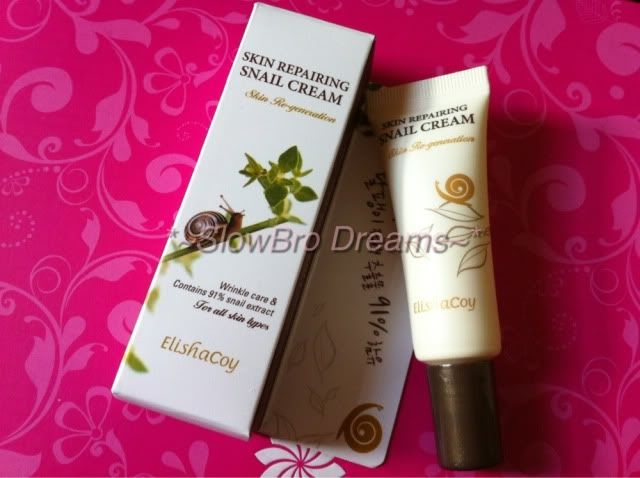 I had tried ElishaCoy BB Cream for once, so this is the first time I lay my hands on their skincare products. Snail Cream has been a trending in Korea right now. I heard it was some sort of a miraculous product which is good for skin. I haven't get a chance to try any of them so I really can't wait to test this out.
Celebrity Slim Meal Substitution Soup (55g for S$5)
I dunno about this yummy slimming soup. But chicken soup for a quick launch sounds good to me in office?
Bio-Essence Bird's Nest Nutri-Collagen & Whitening Travel Pack Advancer 8ml + Essence 3g + Cream 5g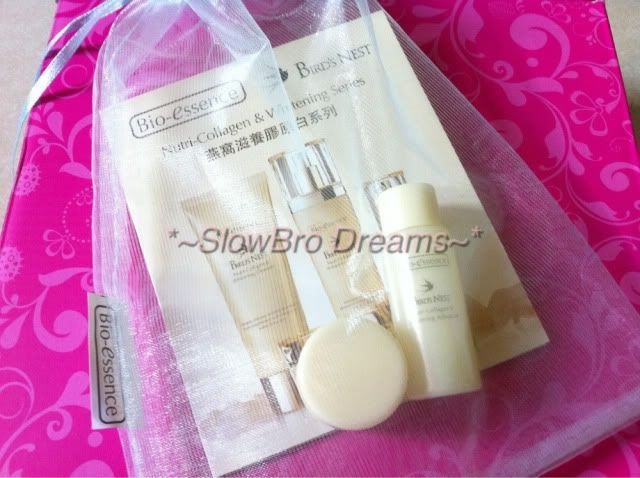 Not much to say on this as we could actually get our hands on Bio-Essence products easily here.
Overall, I think this box was quite okay. My box were full with skincare products. I wasn't too excited and happy about my first Glamabox

because they actually gave me 3 creams!! One eye-cream, one repair cream and moisturizer cream. Well, I prefer if they could give me something varies instead. Although the amount I paid is definitely worth for the products given, but I seriously doesn't like the idea of getting products from same category.
So, if you are someone whom loves trying out new products and don't mind products or samples from the same product category,

Glamabox

is for you.
I am not too sure if I would like to subscribe for long term. Probably I might give them another chance to wait for January box (which I assumed it will reach me next month) before I cancel it of. *cross-fingered*