What comes into your mind with this title?? I've Got Bieber Fever but not the one you thought of course. No doubt I do listen to Justin Bieber's song and I find some of them quite nice but I've yet to come to an extend that I would screams and jump of excitement about him. No doubt if I am a few years younger I might be :p
(My time was Backstreets Boys back then)
Honestly, I am amused me when Nicole by OPI launched their 'One Less Only Girl' Collection and Justin Bieber as the endorser. I couldn't come to think of it why Nail Polish gonna do with him???? Does he puts them on????
But.......if I were age 15 and looking for a nail polish to buy at counter, I'll probably get this
(with Justin Beiber's face on the promotional card)
because I do have a fever isn't it? Thumbs up for the marketing team!! That's not all, when you buy any of this nail polish, part of the profit will donate into the fund of Pencil of Promise Organization (PoP). On the other hand, you're doing charity too =))
Out of 8 different colors inspired by Justin Bieber's song in the "One Less Only Girl" Collection, I was given
I've Got Bieber Fever
from
Secret Allure Nails.
It stated that this gorgeous dark plum is super contagious. By looking at the picture, you might doubt so.
The glass packaging of Nicole By OPI in this collection comes along with a promotional card or tag with Justin Bieber's face on which my boy asked "How come JB's face on your nail polish?" XD Eventually Nicole by OPI has adopted a new brush shape with this collection too. The brush is more a tapered end which is quite weird to use at first. But after a few stroke I am loving it!!!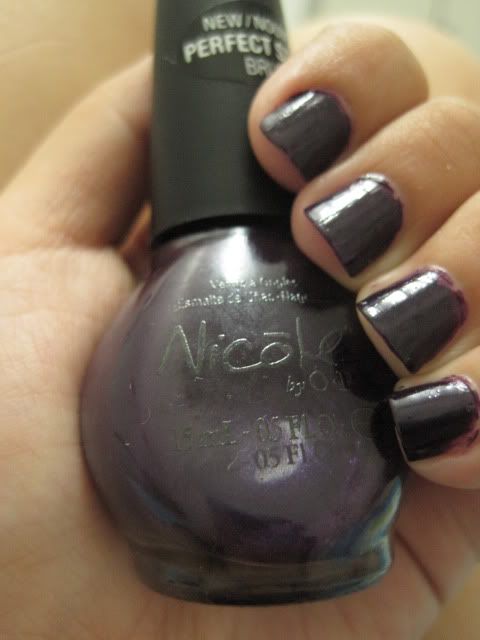 I am quite surprised how the color turns out on my nails. It looks exactly like the color in the bottle but better :) I like how deep the purple turns out on my nail. The texture is very smooth and easy for application especially with the new brush tip.
What do you think about this collection? Would you buy for the color or would you buy just for the fever? Do share with me!