I've been missing the blogsophere!! Do you miss me?? Not sure why but I missed your comments!! If you guys happened to drop by my blog, please comment - I really miss all of you. =)
If you read my
previous haul post
, I actually bought this
Limited Edition Dollywink Eyelashes Set.
If you're a fan of
Tsubasa Matsuwaka - Japanese famous Popteen Gyaru model,
I bet you should not miss this item!!
The packaging of this is pretty cute and huge compare to the others!! As it comes with 2 different pair of lashes and the limited edition eyelash casing.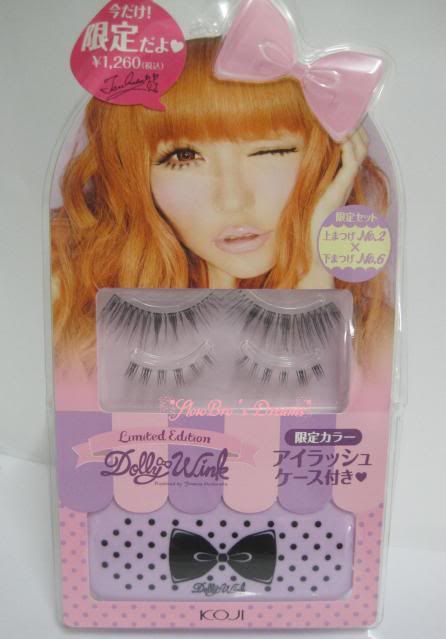 I actually doesn't find it very special as this set consists of
No.2 Sweet Girly (Upper Lash)
and
No.6 Baby Cute (Lower Lash).
But the focus goes to the purple eyelash casing as the normal one is in pink color. Beat me! I just couldn't resist temptation from my friend that convinced me to get this.
**Photo heavy post**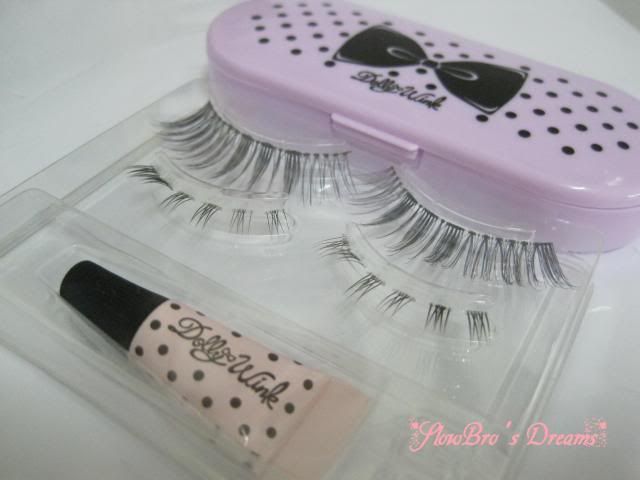 It comes with a small tube of pink polka dot DollyWink eyelash glue. Seriously I tried using this glue, it doesn't work very well to me. Wonder how did the normal brush glue works?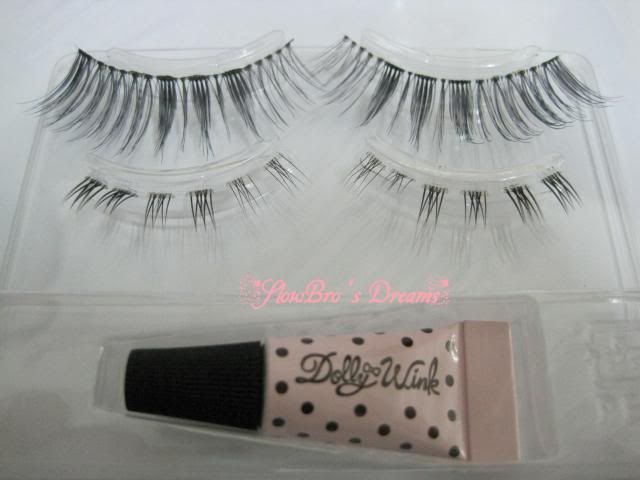 I hardly wear false lashes just because I am a lazy girl. :p Thus, this gonna be my first time using Dollywink eyelashes. Quite anticipating of the result. I measured the
Dollywink No.2 Upper Lash
on my lid and find it quite long for my eyes.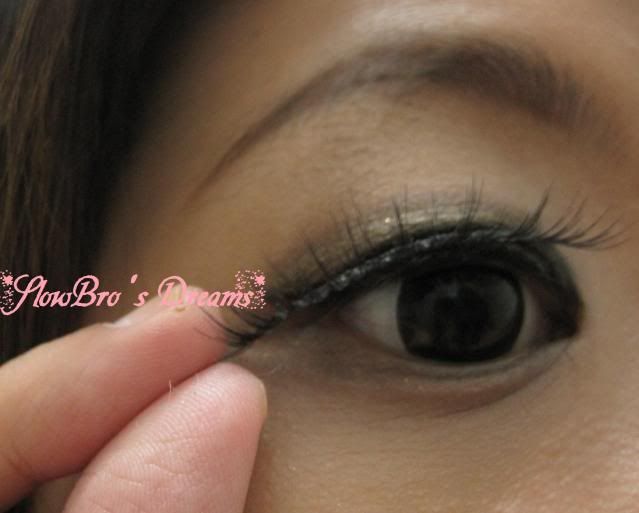 So I snipped it off to match my eye length and apply my favorite eyelash glue on the band.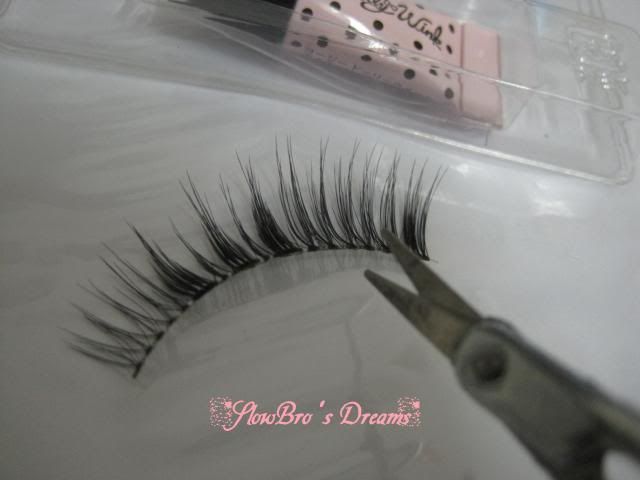 And voila!! This is how it look like on my eyes!! Amazing!! It look so natural and beautiful on my eyes!! *jumping of joy*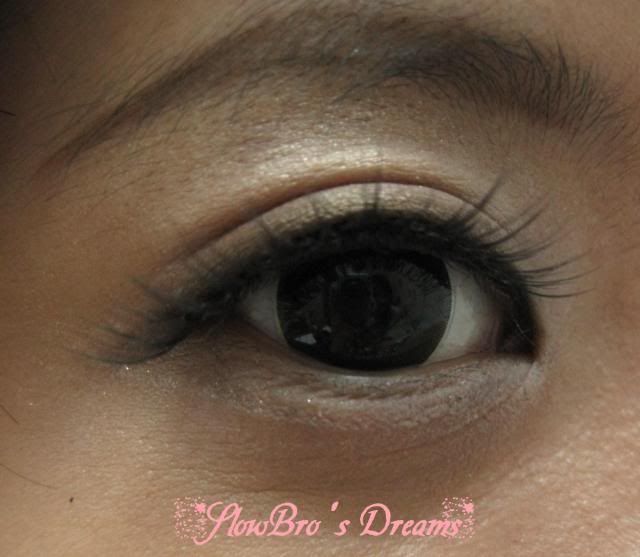 I absolutely love this No.2 Sweet Girly (Upper Lash)!! The band is not too stiff or dense, it is easier to stick it to your lashes and it's very comfortable!!
Here's the full look (half-actually) with only the upper lash: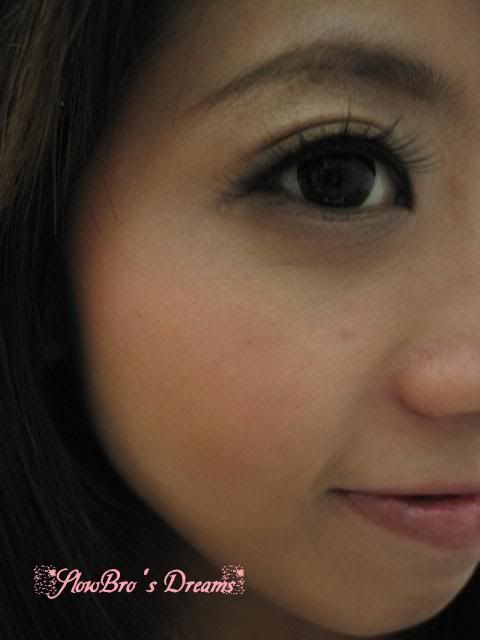 Pls ignored my dark eyes circle - forgot to photoshop :p
I tried on the lower lashes too. The No.6 Baby Cute (lower lashes) is soooo adorable. It comes with 6 individual lashes. I would suggest you to use a tweezer to keep hold your baby lashes so it will stick nicely on your underlashes. Else, you'll be like clumsy me I lost one of the individual lashes somewhere that I couldn't find it because it was too small.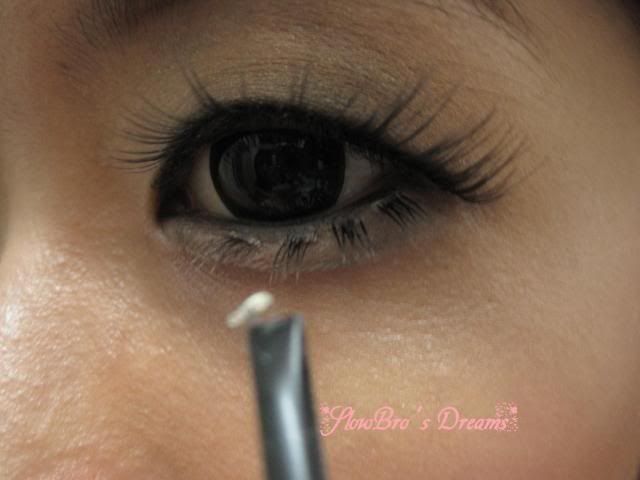 I only managed to put 5 individual lashes on. It's totally depends on what kind of look you want to achieve. You may also stick 2 -3 lashes on the outer lower eyes.
Voila!! Cute dolly eyes!! Now you can achieve Tsubasa Dolly's eyes :)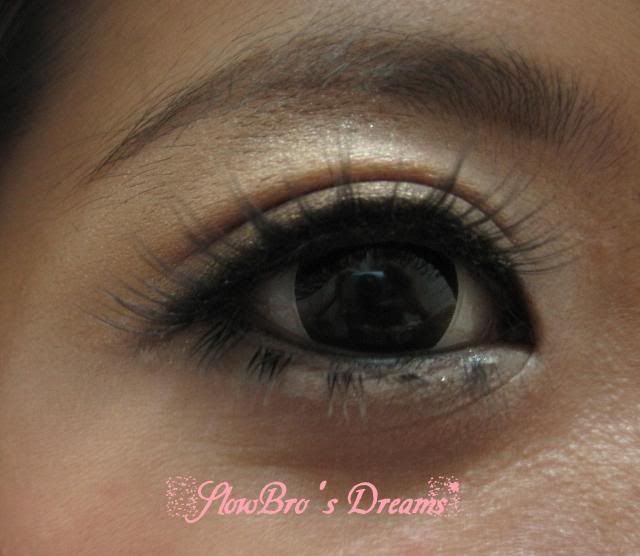 I didn't managed to place the second lashes nicely as it was really very small to stick it on. But don't worry, it won't fall off unless if you rub your eyes really hard which I doubt so.
And here's the purple casing. It supposed to be light purplish, not sure why my camera couldn't capture the right color. The cute eyelash casing where you can store your lashes.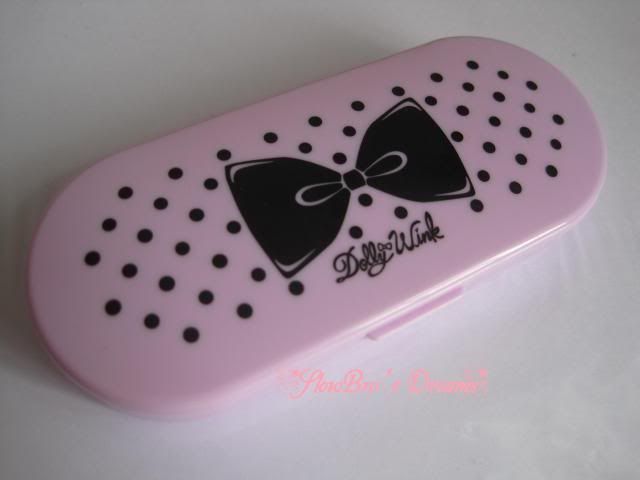 You do not have to keep them in their original casing anymore. This casing divide into two compartment where you can put your both pair of lashes differently. Cool isn't it?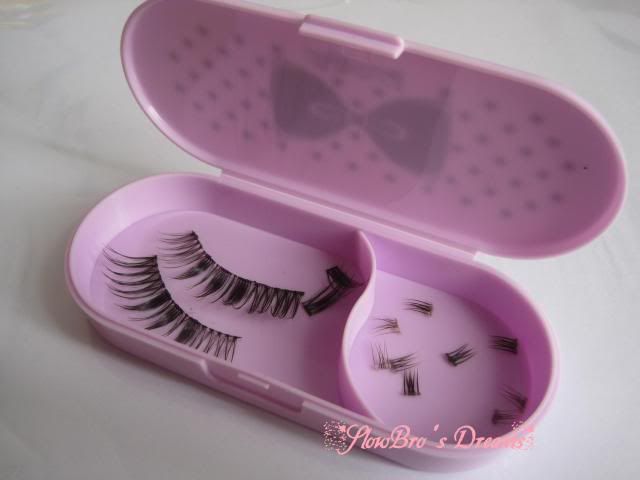 This is the first time I tried gyaru style with both upper and underlash. The boy said I look very different in it, but I have to admit it's cute~~~ Despite of the packaging, casing and even look! Overall, I really think this Dollywink Limited Edition Eyelash Set is worth to have one. For about S$25 with 2 pairs of lashes and one eyelash casing, it's definitely good bargain!!

**It is sold out in Singapore Watson. You might wanna try and grab this in Sasa Malaysia before it went out of stock too**
Before I end my post, here's one of the look I tried with both pair of lashes!!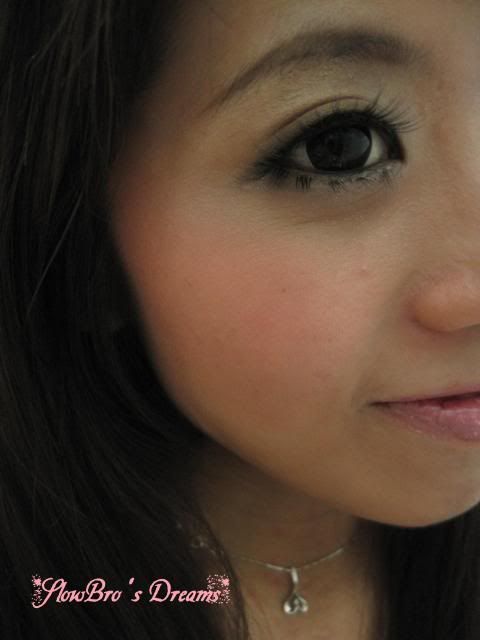 Do let me know how you girls think about it? I am still unsure is gyaru style suits me much. >.<