If you've followed me on my
Facebook
, you must have seen this review coming up. So, I'm invited to participate on Ginvera blogger's challenge again. The brand has been around in the market for years. I always wanted to give it a try whenever I passed by the drugstore but the winner often goes to my cosmetic hauls. Bad gal :p So I was so happy when Ginvera send me the famous two products of Ginvera to review.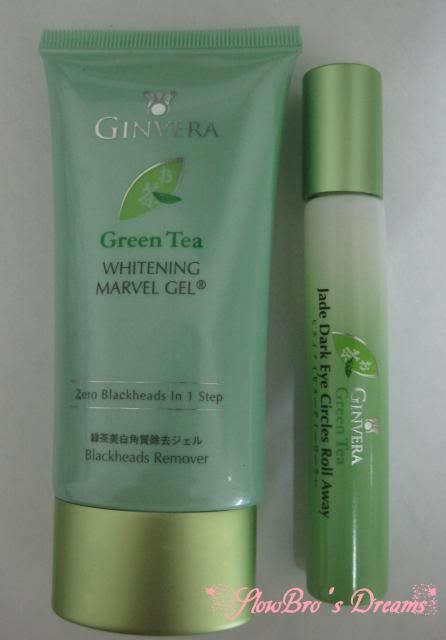 The
G

invera Green Tea Whitening Marvel Gel
and
Green Tea Jade Dark Eye Circles Roll Away
are one of the best seling item from Ginvera Green Tea Skincare. As everyone heard of, green tea has been famous with their health benefits. Green tea extract contains 20 times more anti-oxidative power than
Vitamin C
and
Vitamin E
which is good for our skin. Not convince?
Ginvera Green Tea Whitening Marvel Gel (S$16.80)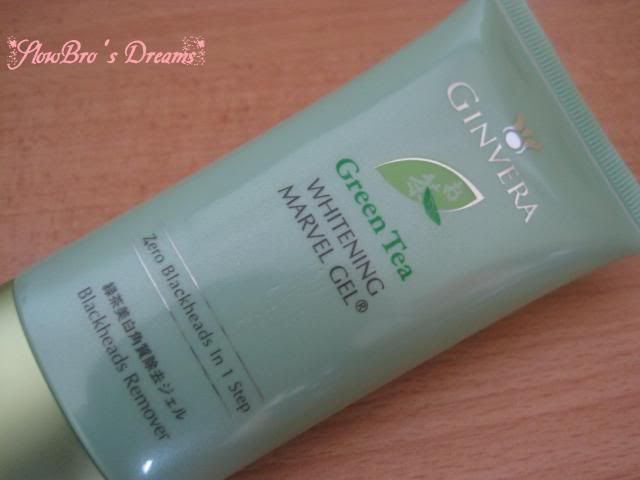 The advertisement showed guarantee '
Zero Blackheads in 1 step
' sounds promising isn't it? If you have lotsa blackheads, you just gonna get this products.
But besides that, there are others 10 benefits of Marvel gel :
1) Rubs away deep layers of dead skin cells
2) Rubs away blackheads painlessly
3) Contracts pores for refined skin (as dead skin cells have been cleared from pores)
4) Lightens black spots, freckles & scars
5) Removes oil seeds
6) Regulates sebum secretion to prevent pimples
7) Brightens dull complexion
8) Changes dark, rough skin to smooth skin
9) Whitens skin as it gives way to new born skin
10) Enhances quick absorption of skin care products
Packaging: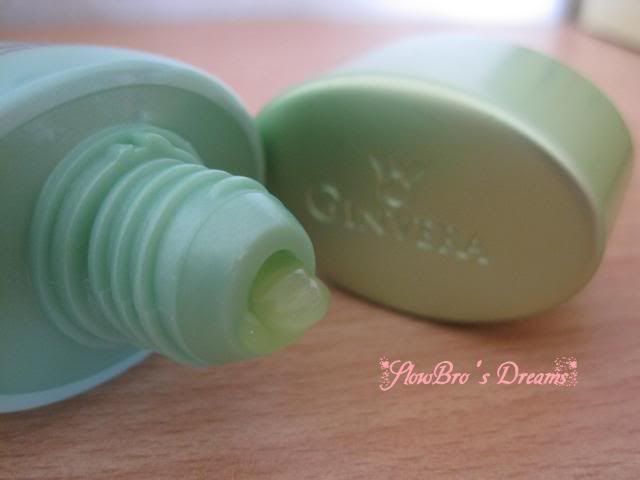 The 60ml squeeze tube packaging are just like normal scrub packaging. But the drawback is that I couldn't control the amount I squeezed.
Ingredients: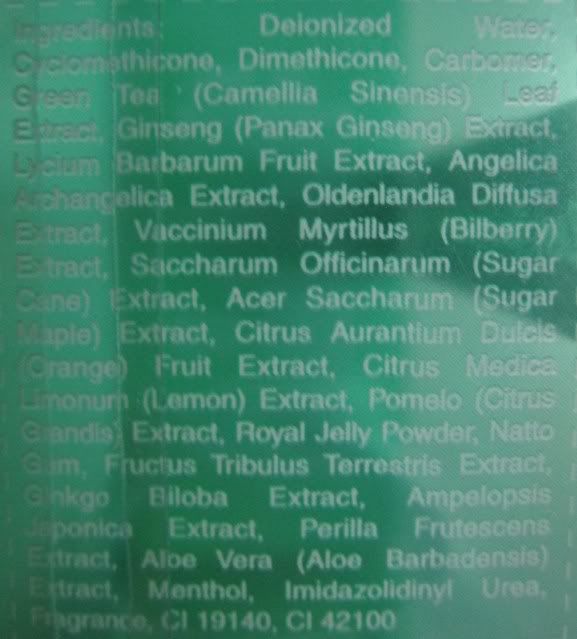 Green Tea essence, soybean extract, Vitamin C & E and Biogel ingredients are a plus point. :
)
Texture: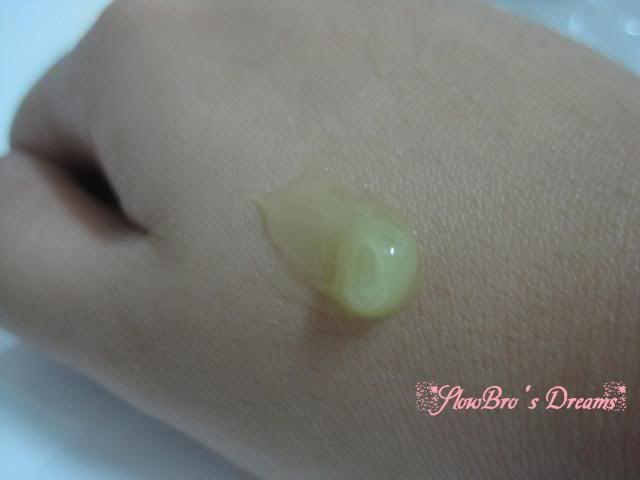 The texture is in a greenish gel form. It will turn into a watery texture after spreading.Try spreading it in circular motion and you will get the flakes in the end. The flakes are the mark of your dead skin cells being scrubbed away~~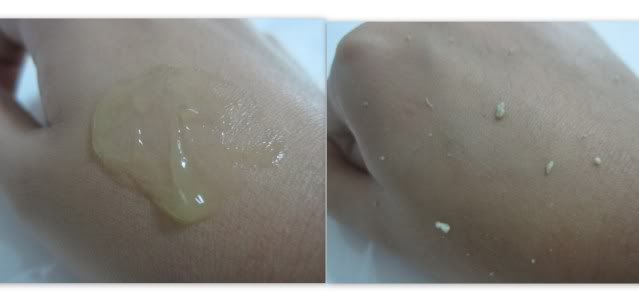 Reviews:
To be exact, I do not have lots of blackheads on my nose. So it was not too significant for me to notice that it get rids of my blackheads. But I definitely like the feeling of how it can scrub away my dead skin cells and turns into flakes. I love how my skin turns smoother and brighter everytime I used this.
Look at the picture above? It does makes a different isn't it? Ah~~The best part of this is that it was gentle for everyday use. But be sure you use this before you clean your face.
Rating: 4/5
A good exfoliating product.
Green Tea Jade Dark Eye Circles Roll Away (S$18.90)
Do you have panda eyes like me? Nobody enjoy being a panda. So here I found my new hero that rescue me from the panda eyes disease. The idea of the Jade roller has kept me into suspense but I totally love it.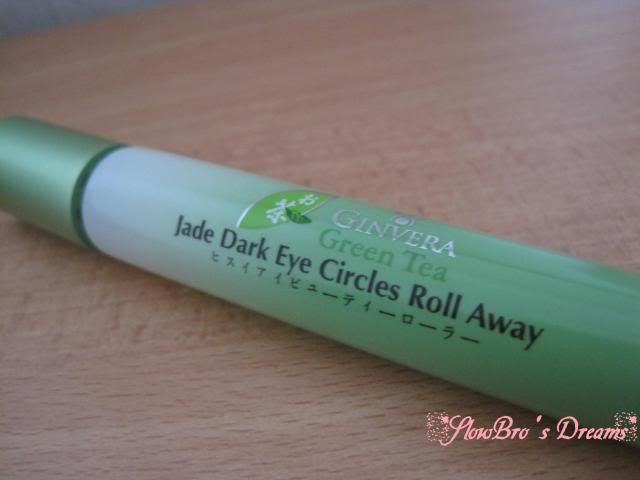 They say:
According to ancient Chinese medical book, "Jade has cooling properties. It can help to 'dissolve toxins', nourish skin, improve circulation, eyesight and energize the brain." Due to the emitting of energy, Jade is also believed to have purification and calming properties. In modern scientific studies, Jade is found to be enriched with trace minerals that are beneficial to human body. Through massaging with the Jade ball, this energy can in turn be "channeled to the skin and body" to help nourish and beautify the skin.
Packaging: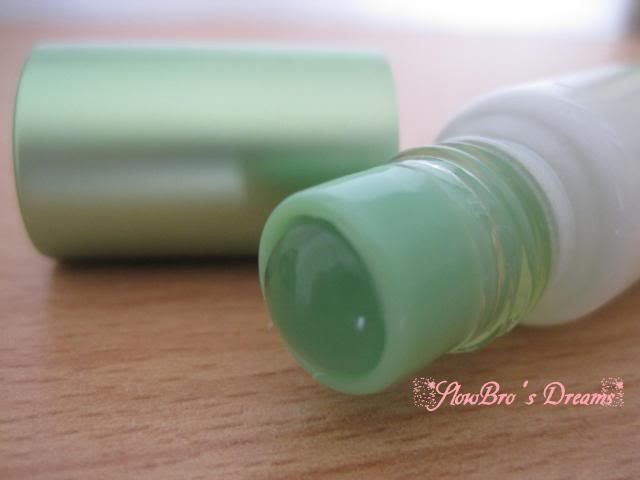 The product comes in a form of a Jade roller tube of 15ml. Jade roller contains ample mineral elements to emit energy to suppress and prevent bacteria from breeding. I love how the point that Jade roller had the anti-bacterial effect.
Ingredients: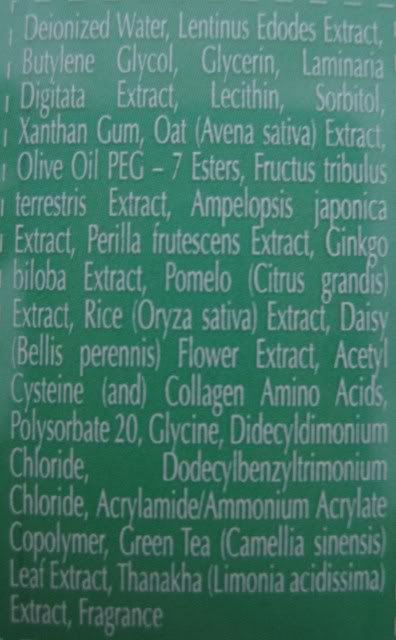 Texture:
The Jade roller provides a cooling effect when rolled on my eyes which I love the feeling! The texture is watery like but it got absorbed into my skin really fast and it is not oily at all unlike those cream and my normal eye cream. Awesome!
Review:
I've been using this product for 2 weeks and I realized that my eyes areas wasn't that dry than before. The lines around my eyes are less visible now. I couldn't see if this products works on my dark eyes circles despite I didn't get enough sleeps/ rest while trying this product. If I don't get enough sleep/rest, my dark eyes circles are very obvious and worst. But with this roller, my dark eyes circles didn't get worst .I had insomnia last few days and nobody comment that I didn't get enough sleep which is good. :)
Rating: 4.5/5
Me likey!!!
Overall, the Ginvera Jade Eye Roll Away is fun product. I adores the lightly green tea scented smell and the jade roll on my eyes.
For Malaysian readers, if you're a Watson Card Member you can get RM3 off when you purchase the Ginvera Green Tea Marvel Gel. For Singaporean readers, now is chance for you to try on the sample and win a set of
Ginvera Green Tea Whitening Marvel Gel & Jade Eye Roll Away
!!
Simple click the sample below and join
Ginvera Facebook
page.