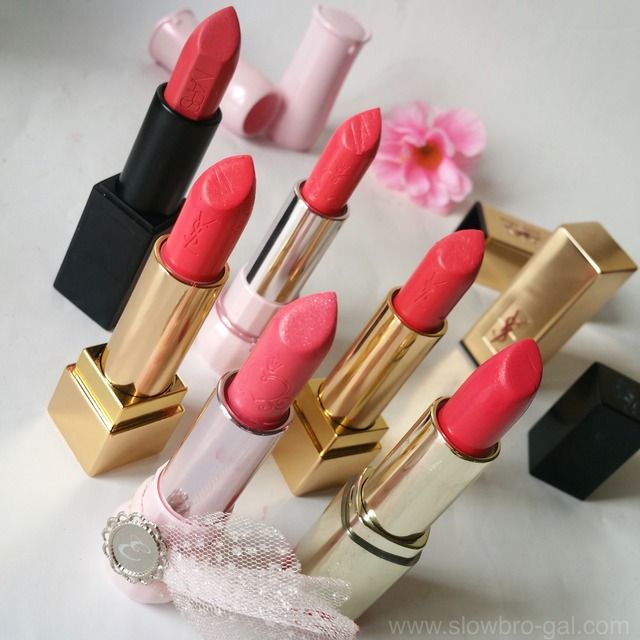 My Coral Lipstick Collection
Exactly one year ago there's this famous
Korean Drama - "My Love From Another Star"
(also known as You Who Came From Another Star, starred by Kim So-Hyun (as Do Min Joo) and Jun Ji-Hyun (Cheon Song-Yi). This drama was an absolute HIT and since then brought a great impact on Beauty and Fashion industry world wide.
YSL RPC In 52 Rosy Coral
Why?
Because in the drama, Jun Ji-Hyun was known wearing the infamous
YSL Rouge Pur Couture #52 Rosy Coral
that was highly coverted and sold out almost everywhere in the world during then. It took me a long time to get my hands on these babies. It was also known as
"Cheon Song-Yi's Lipstick"
or
"That YSL Lipstick"
Even my dad watched that drama!!
(You can talk to my dad about this drama if you ever meet him. haha!)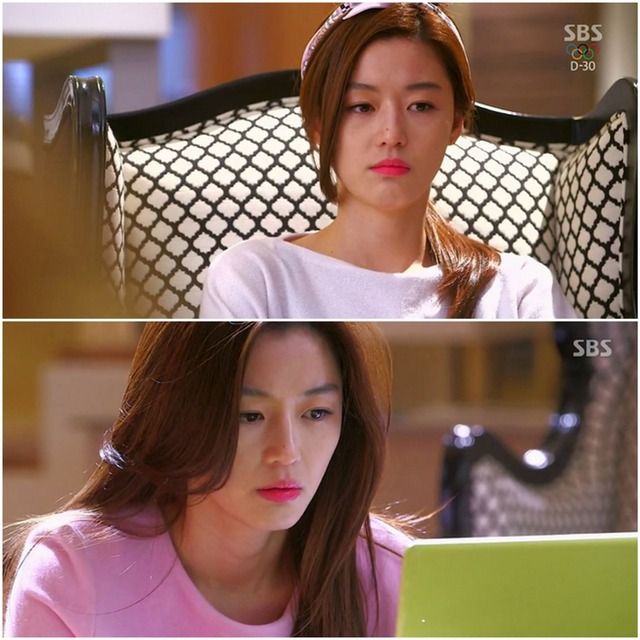 Jun Ji-Hyun wearing the YSL Lipstick #52 in the drama
The impact of the drama towards K-Beauty was amazing! I would say most Asian (yes, like me!?) who preferred to have safer lip colors are into bright lips now -
Bright coral/pink lips.
From there, I started collecting more coral lipsticks because of this!
Today I'm gonna show you my bright
Coral-Pink Lipsticks
collection and Dupes. Some of these lipsticks are pretty good dupes for the infamous-YSL 52 Rosy Coral Lipstick.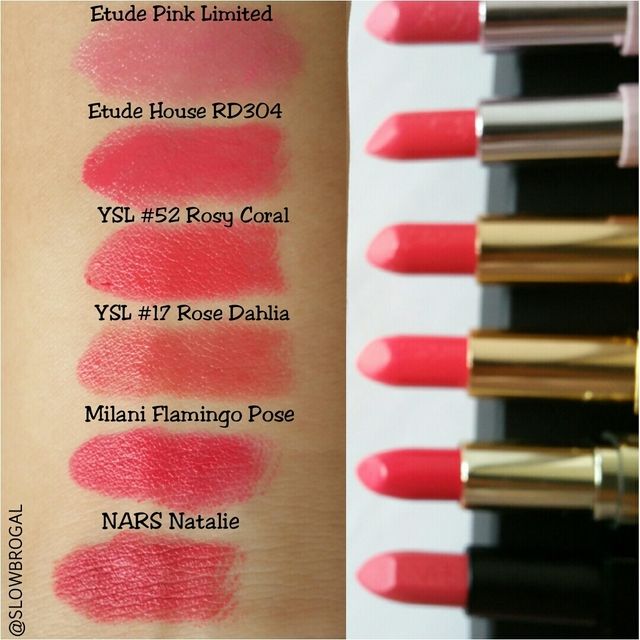 Above are the swatches! From top to bottom:
1) Etude House Dear My Blooming Lips-Talk in Etude Pink (Limited Edition)
The lipstick look very similiar to the others until I swatched it. The color turns out as a sheer pink. Although it wasn't a dupe but it is a very pretty color and the packaging is awesome too!
2) Etude House Dear My Blooming Lips-Talk in RD304 Electrifying Red lipstick
Yes! This color could be the dupe for the YSL 52, Cheon Song Yi's Lipstick. The texture of the lipstick is less creamy yet hydrating.
3) YSL Rouge Pur Couture in 52 Rosy Coral
The lipstick that sold out everywhere! The Cheon Song Yi's lipstick. :)
It is a creamy and pigmented neon coral-pink. It looks very nice on fairer and cooler skintone. Unfortunately, it doesn't flatter me much compare to most lipstick color. I bet not everyone could wear this color though.
4) YSL Rouge Pur Couture in 17 Rose Dahlia Lipstick
I love this color on its own! The coral is just so pretty! It is less neon compare to Rosy Coral but this color is more flattering on warmer skintone (like me!)
5) Milani Cosmetics Color Statement Lipstick in Flamingo Pose
This is another dupe for YSL 52, Rosy Coral. It is indeed very similiar but it has more red-tones in it. The texture is very creamy and pigmented. But I do find it a bit drying though. However definitely a good buy as the price is pretty affordable.
6) NARS Audacious Lipstick in Natalie
There've been to many raves of NARS Audacious Lipstick that I think I wouldn't need to mention more. This lipstick is less neon in comparison to YSL 52. But it is pretty long lasting.
This is how my collection of bright lipsticks grow and became dupes of the infamous YSL #52 Rosy Coral Lipstick. If you couldn't hunt the YSL lippie or looking for more affordable ones, Milani or Etude House Lipstick could be nearest dupe and your choice to get. And these two are lot more affordable than the price of YSL :D
Hope you enjoy the swatches of it!
Do you get influenced by the drama and got yourself a bright lipstick too??