It's been a while since I last update on Slowbro's Beauty Box Series. Among all the beauty box subscriptions in Malaysia, Modbox is one of my favorite. Unfortunately, they decided to stop all their subscriptions since April to enhance or revamp their box. I've been waiting for their re-launched ever since then and it's finally here! I'm so excited to see what's the surprise. Indeed it is!
Look what came into my mail box!
Does it looks like a pizza box to you? In fact, it is - just a smaller version (probably a personal pan size?) The new packaging of Modbox is pretty small box if you compared to their previous purple box. I prefer their previous box though because I personally like to keep boxes. This is not bad though. Talk about recycle and eco - friendly now.
You must have wondering what's the surprise underneath the boxes and what's the different between the old and the new.
The new things is now you get to choose the sample you want in your beauty box!!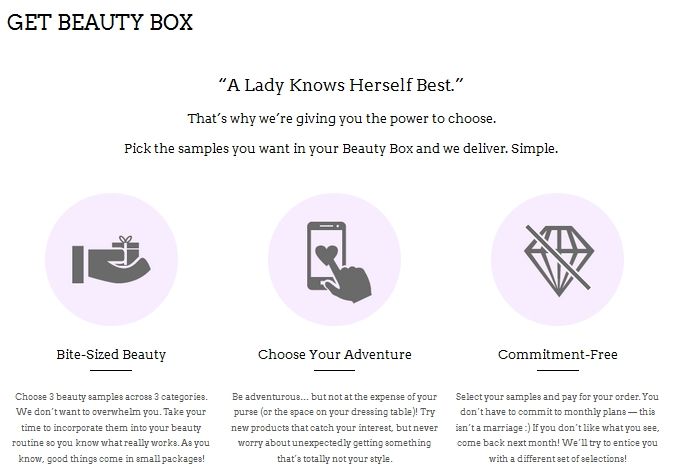 Good thing because now you don't have to complain getting stuff that you don't use anymore. And you get to choose which product suits you the best. Choose 3 products from the list once you signed up in their website. (Below pic as example)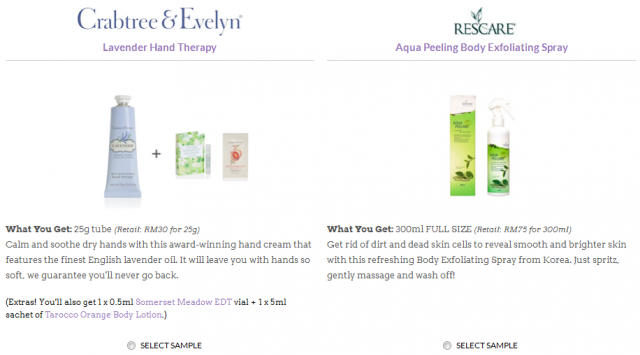 And you see what you get... The one I got was actually August box.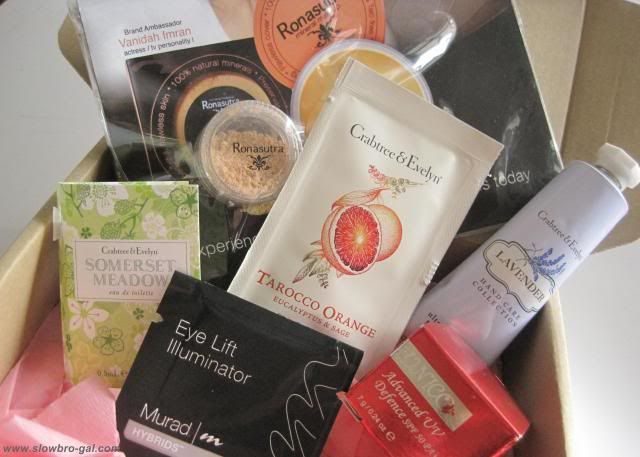 I really how Modbox crew dedicated to write a little small note for their subscribers. And they actually hand-written my name. So cute!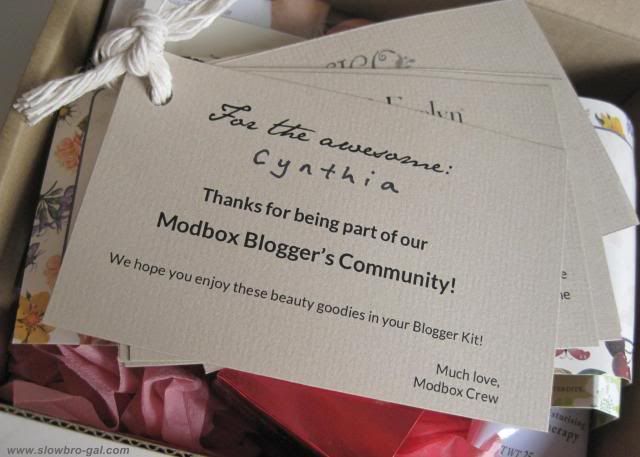 Their welcome note and their products description list are written/printed in a paper which tied up like those notes we used to do at school! I'm not sure about you, but I like how it presented now because I feel it's had more personal touch on it. I don't think machines can tie those notes together right? *wink*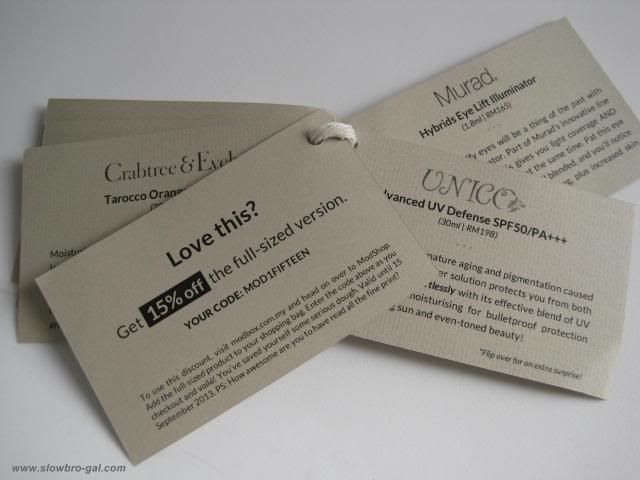 PS: The discounted code is for Ronasutra Powder. (Anyone love them?)
Behind every single product description, it comes with a discount voucher. It's an awesome idea because if we like the sample we try in the box, we can purchase them a ModShop with a special price. Save our pocket!
Crabtree & Evelyn Hand Therapy (25g for RM30)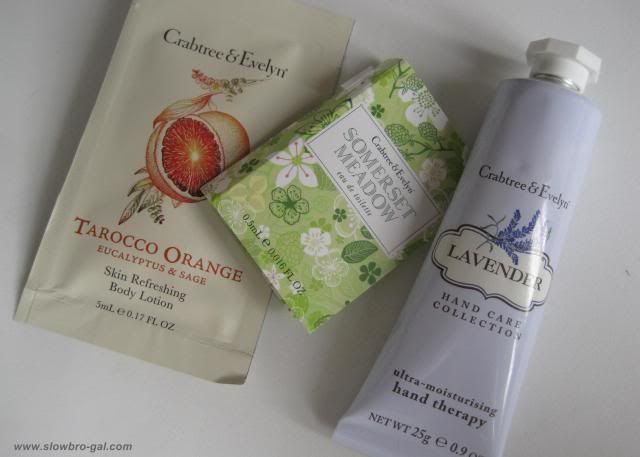 If you see the picture above, if we choose the hand cream it is inclusive of additional 2 small sachet size samples. (Somerset Meadow EDT & Tarocco Orange Body Lotion)This is quite cool because it is like buying in their retail shop which SA will provide us with sachets. I quite like Crabtree & Evelyn products, so I don't really mind having more of them!
UNICO Advanced UV Defense SPF50 PA++
Seriously, this is the first time I heard of this brand. That the fun part of getting beauty boxes isn't it? You get to learn so much about the brands in the market. I'm quite intrigued with the idea of a moisturizer with sunscreen function. Had you tried them? Most of the moisturizer I came across only had SPF30 (highest).
Ronasutra 2-in-1 Mineral Foundation & Powder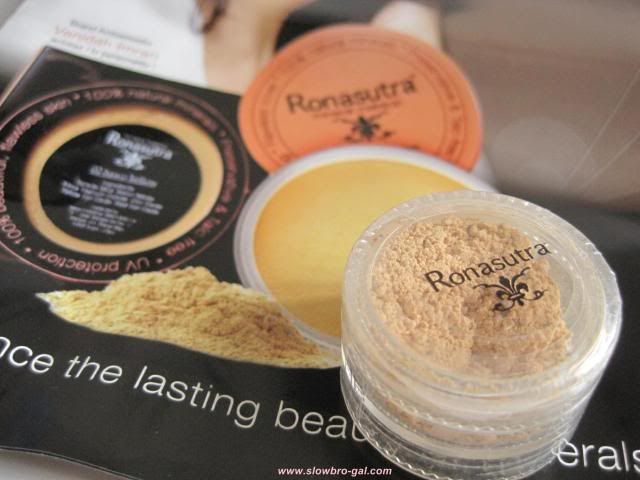 I've heard so much raves about this mineral foundation. My friend told me that she had already finished one full size of it and now on her 2nd one. I'm pretty surprised to hear that. And if you girls wanna try out the product but hesitant to pay for the full size in case if it's not suitable, purchasing sample size like this is definitely a good idea. I'm so glad that the sample size were available via Modbox. I can't wait to try this and review to you girls soon.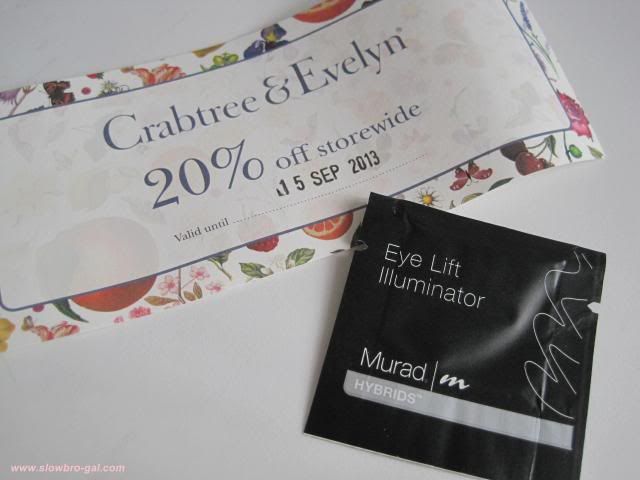 As usual, each beauty box I received will include some discount vouchers or sample sachets. So does Modbox. Opps....Today is the last day of the voucher. Shall use them to purchase their body lotion. I fall in love with them after using the sachet given. To be honest, I doesn't really like seeing Murad samples anymore. I had received just tooooo many from the beauty boxes in Malaysia.

Overall, the new re-launch box is pretty good. But I personally prefer their old packaging. Because I can keep those purple box. If you purchase the item above in retail, it probably cost you more than RM40+. But you only need to pay RM 9 (*excluding of the delivery & handling fee).

Yes! It is only RM9!! That's even cheaper than a cup of your Starbucks coffee! It's definitely worth it! Like previously, this is one of the cheapest beauty box so far you can get in the market. So if you're new to beauty box subscription, then try this!
For more info, please visit the below.
Twitter

: @ModboxCrew