Its a leap year!! And its only happens once every 4 years. That's the reason why I should post this highly requested dupe alert from my readers. =p
Speaking of dupe alert, there's so much comparison of my favorite brand NARS out there. NARS is one of the top notch cosmetic brand that actually drugged most of the girls out there.
(Say yesss.... =) )
If you couldn't get your pocket to afford NARS, will ELF be a better choice for you?
So today, we'll have an argument with my lovely NARS Blush & Bronzer Duo and the dupe alternative
ELF Contouring Blush & Bronzing Powder.
NARS Blush & Bronzer Duo
, a makeup masterpiece and my all-time-favorite product. Who would come with an ideal of having a blusher and bronzer together?? Initially this US$40 masterpiece is too far from cheap. So the ideal of blusher and bronzer came in from a drugstore product -
ELF Contouring Blush & Bronzing Powde
r to rescue our pocket.
NARS (left) , ELF (Right)
FYI, my NARS Blush & Bronzer Duo is Deep Throat
(Blush)
& Laguna
(Bronzer).
This palette is a Limited Edition palette. The usual available duo color will be Orgasm & Laguna which you may browse through
Sephora.
NARS Blush & Bronzer Duo
Price:
US$41
(The price increased by $1 recently)
Packaging:
5g of blush
(Deep Throat)
& 4.5g of Bronzer
(Laguna)
. Comes with rubbery packaging which attracts dirt and stickiness.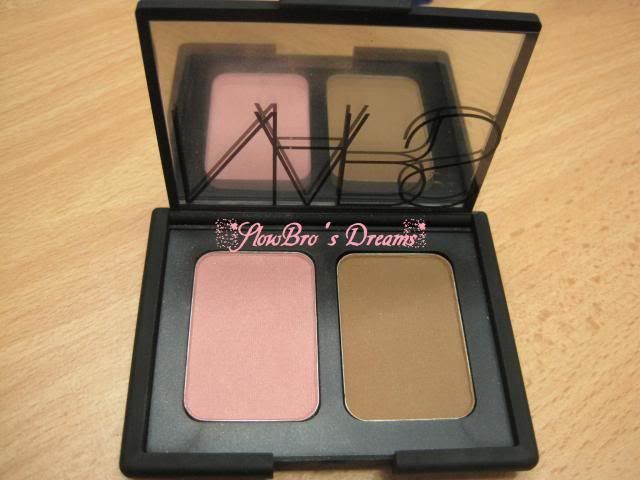 Texture & Pigmentation:
It's texture of the product is fine & silky. It's not dusty and the shimmer doesn't goes everywhere. It's extremely pigmented that you gonna be light-handed.
ELF Contouring Blush & Bronzing Powder
Price:
US$3
(It's more than x 10 cheaper than NARS!! Great for pocket)
Packaging:
4.5g of Blush/ 4g of Bronzer. Comes with a black plastic packaging and a huge mirror in it.
Texture & Pigmentation
: It's texture of the product is quite sheer and soft. The powders are little grainier comparing to NARS. Yet it is very well-pigmented that you have to be light-handed as well.
Swatches comparison:
Do you think both of these are dupe?
Comparing both NARS Laguna Bronzer (top) and ELF Bronzing Powder (bottom)
Comparing with NARS Orgasm (O), NARS Deep Throat (D) and ELF Contouring Blush (E).
The bronzer does look like a dupe, but the blusher it's not a total dupe for it.
Conclusion:
The biggest difference between NARS and ELF us the shimmer. NARS duo has a very fine golden shimmer that give a nice glowy look on your skin.
Bronzer wise, ELF is about three shades darker than NARS Laguna. It can turn out looking dirty if you applied too much. For the blush, ELF is more towards peachy-coral tone than pink. Both NARS Orgasm and Deep Throat are very pigmented. One or two swipe of it you'll get the color. Unlike ELF, I have to swipe a few more for the color to appear on my hand.
If takes two or more for me to actually blend in the ELF powder onto my face. As I mentioned, the texture is a bit much grainier than NARS. But both has the same long-lasting power.
Packaging wise, you all know how annoying NARS rubbery packaging is. I personally prefer ELF plastic packaging because it doesn't attract any dirt and dust. So I wouldn't have to clean it nicely everytime I used it or bring it when I am travelling.
Overall, ELF powder definitely make it as a drugstore product especially with the price. I do love both of these products, but if I have to choose, I'll invest on NARS duo =)
Dupe or no?
You decide.