A pair of hot lips are indeed weapons to kill.
Agree or No?
Soft nude lips
has been recognized as the biggest look for lips nowadays. Many of you might think that nude lips does make you look like you're sick and lifeless, but with the correct way and method you can achieve lips like Angelina Jolie.

In fashion way, nude lips are a dramatic look where natural color is taken out of the lips and this is often contrasted with a smoky or dramatic eye. I guess that is the reason why I've been in love with nude lip colors nowadays.
Wearing nude lips can be tricky. Keeping the definition of your lips is key. So here's a little tips for me to share with all of you. (It does work very well for me)
1) Selecting a right nude lips:
- If you have a fair skin, you can go more peachy, pink, or even washed-out and totally nude. Your pale skin will only enhance any and all of these shades.
- If your have a medium/dark skin (like me!), you can go for more peachy, beige, or something more warm in color. Do must stay away from truly pale beige, creams or white tones or you'll look like a ghost.
2) Moisture your lips with lip balm
- Always moisture your skin before any makeup application - same goes on your lips! This will make your application easier and long-lasting.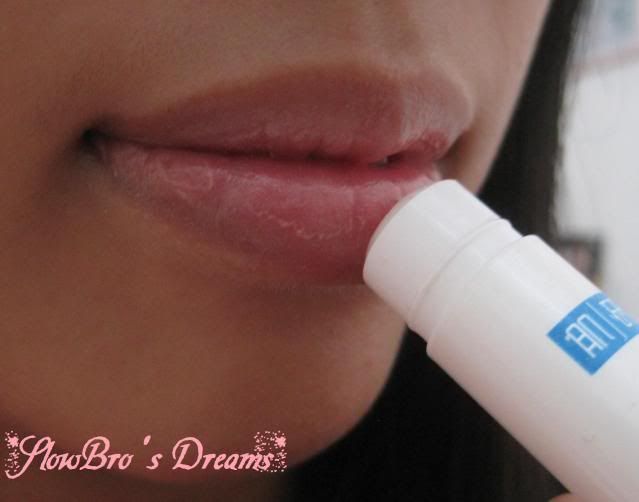 Am using Hada Labo SHA Moisturizing Lip Balm
3) Define your lips
- Most of you may skip this step but giving your lips definition is the second most important step in achieving a nude nude lips. You don't want to look like you don't have mouth/lips at all in your photos right? :p Define your lips by using a lip pencil that is a shade or two deeper than your skin tone.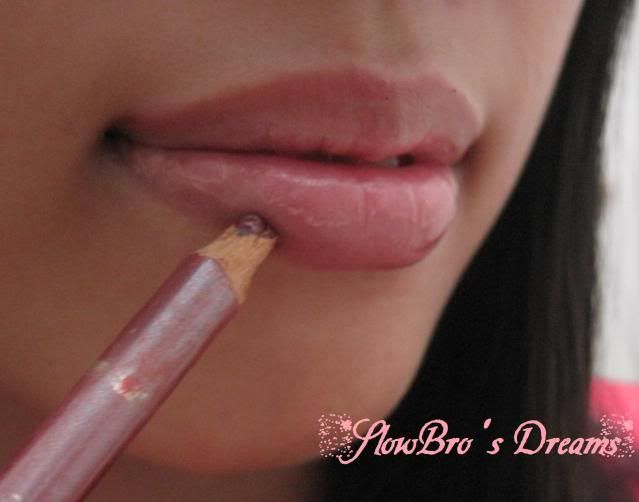 Am using Lancome Lip Liner
4) Conceal your lips
- You may skip this step if you're using a nude lipstick. Personally, I love using concealer to conceal my lips because that would help to conceal the natural tone of your own lip color (especially with pigmented lips like me) so that the true lipstick/lipgloss shade shows better. Besides, it fills in the cracked line on your lips.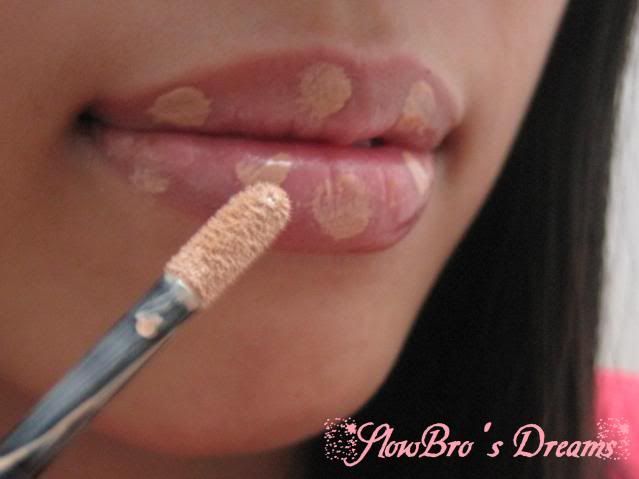 Am using Candydoll Lip Concealer
- Dap on your lip concealer or foundation (if you don't own one) on the your lips, and lighty pat on with your finger. Do not apply the concealer like putting lipgloss on, otherwise it will be very thick and gloopy.
5) Color your lips with a nude lipstick
- Now swipe your favourite nude lipstick on to achieve a nice nude sheen. =)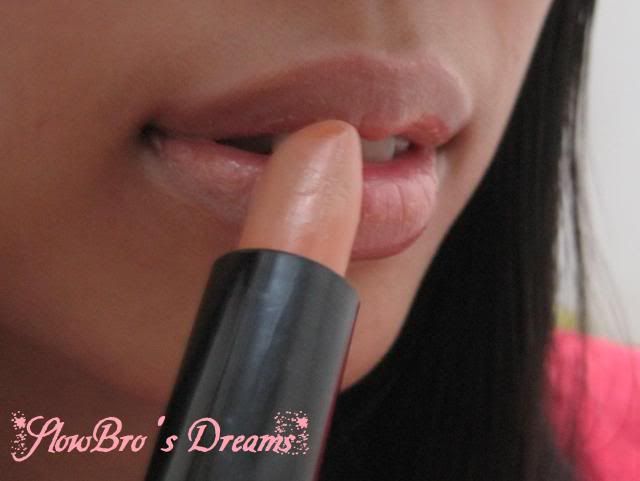 Am using NYX Round Lipstick in Circe
I believed that there are some of you may skip this step if you're using a lip concealer.
6) Finish the look by using a nude lipgloss
- Lipgloss gives you a 3D effect to your lips making them juicy and kissable? :P
Am using Rimmel Vinyl Stars Mirror Shine Lipgloss
And we're done!! Here's the picture before and after: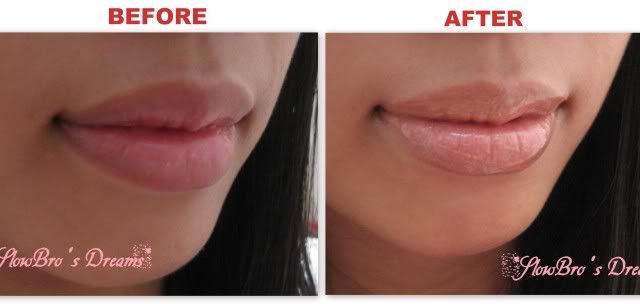 Tip:
Always remember to exfoliate your lips so that the dry flakes on your lips will be eliminated for a smoother lip application.
(Don't follow me, I am a truly lazy bump - I don't exfoliate my lips and my lips are very dry indeed which is very bad I know :p )
Now you can have lips like Angeline Jolie!! =))
- MAC 'Creme D' nude' Lipstick
- MAC Hue
- Revlon Nude Attitude/ Soft Nude
- Rimmel Nude Delight
- NYX Round Lipstick in Circe
- Canmake Melty Nude Lipstick
This will be my first tutorial pics ever, not very good indeed but just for sharing ya~~ ^_^
And I do hope my lips doesn't scare you off. :p Do share with me how do you think on this and let me know what is your favorite nude lippie. Viola!! :D