Being an avid online shopper and a beauty addict, I am always on the hunt for beauty deals! Be it online or offline, local or overseas. One of my happiest playground and most visited site -
Sephora!
It pretty sucks most of the time when I'm able to shop online at Sephora US but not locally~ :'( Well, most of the time I have my friends in USA/ Canada to shop for me.
(Don't get me into explaining those expensive shipping rates and taxes!)
Earlier in February 2016 we shoppers, were awarded with the greatest news of the year! For the first time ever
Sephora is online
in the region!! *jumping excitedly* That means I am now able to get the latest beauty deals 24/7 online! :D
Look what's in front of my laptop now~
Besides the convenience of shopping online, there're lots of bigger brands now available in
Sephora Online!
Eg: Nudestix, Becca Cosmetics, Marc Jacobs, Zoeva, NYX etc. If you're familiar with one of the best beauty e-commerce site -
Luxola,
yes they have been rebranded to Sephora. Therefore, most brands that used to be available in Luxola website are now available in
Sephora Online
too! Isn't that awesome?
In conjunction with the launch,
Sephora SG
sent me a care package which makes me super excited! It feels like Christmas all over again!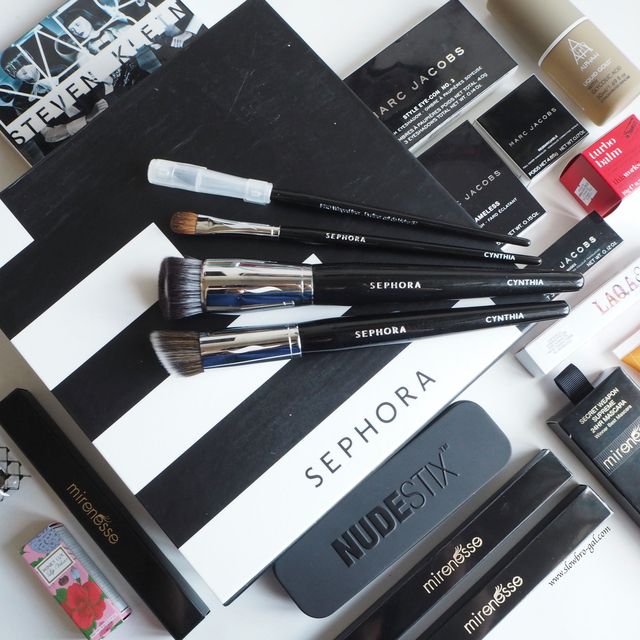 Adding more new makeup brushes into my stash. It's my first time trying out the Sephora Pro Brushes and I have to say it's pretty good! The brushes are quite sturdy, soft and dense. I've tried using both Pro foundation and angled contour brush. It's felt so soft on skin and give me a precise blending. If you're looking for an affordable and good makeup brushes, Sephora Pro Brushes are definitely a good buy.
Have you spotted the special engraving on the brush??
(Nobody can steal my brushes away from me now! :p)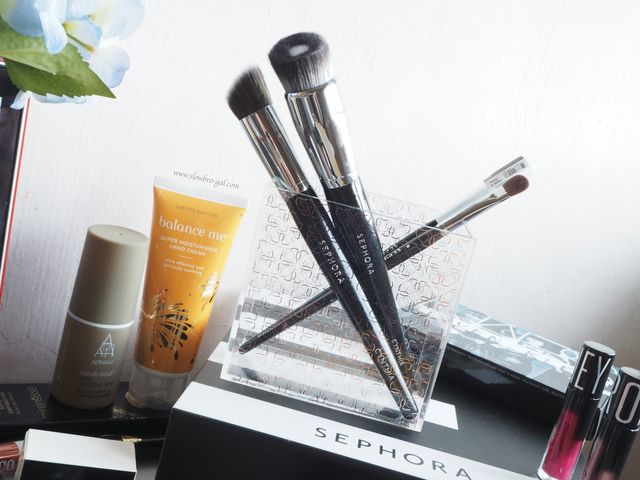 Sephora Pro Foundation Brush // Angle Contour Brush // Shadow Brush // Winged Liner Brush
I couldn't be more than happier to have my desk looking like this every single day despite the mess. One of my recent favorite makeup brand -
Marc Jacobs Beauty!
From eyeshadow palette, blusher, lipstick and base, I got it all covered!
My current favorite product from Marc Jacob Beauty is the Re (Marc)able Full Cover Concealer! I've been always wanted to try this concealer since Marc Jacobs Beauty arrived at our shores. The coverage is so amazing and it's actually quite long lasting. Definitely recommend for someone who's super dark eyes circle like me. :p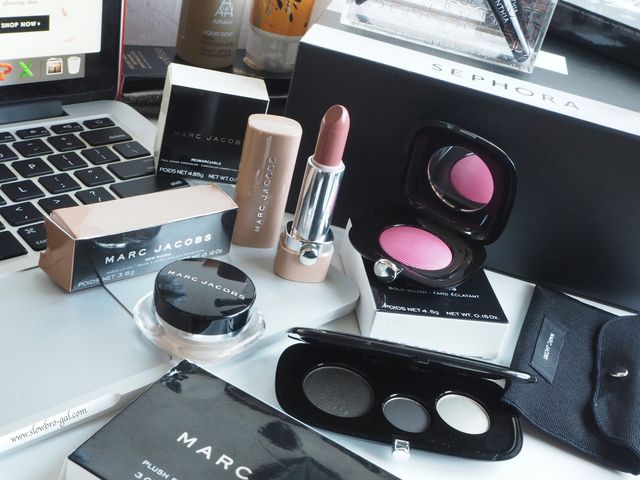 They'd recently launched a new Velvet Noir Major Volume Mascara in Sephora.sg which got me really intrigued. Purchase more than 2 items from Marc Jacobs Beauty and received a complimentary mini LE Marc Lipstick, one being the latest mascara.
(While Stock Last)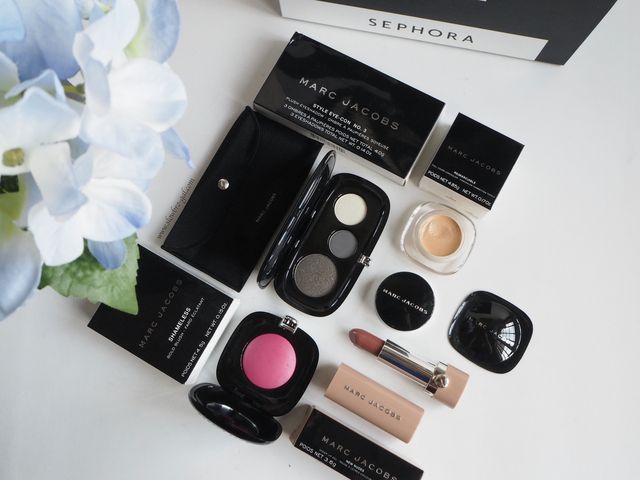 Marc Jacob Beauty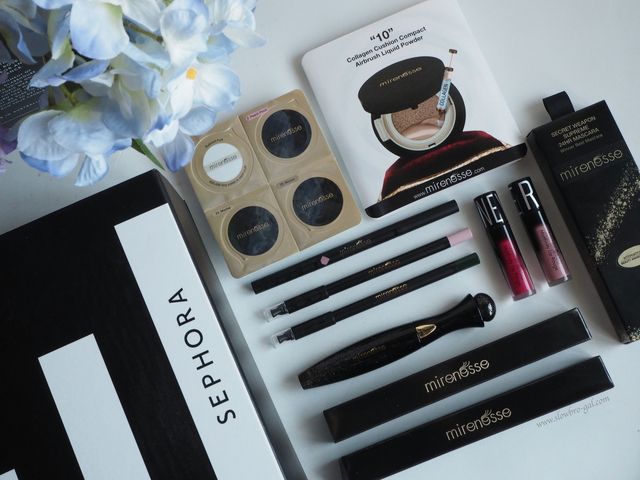 Mirenesse Makeup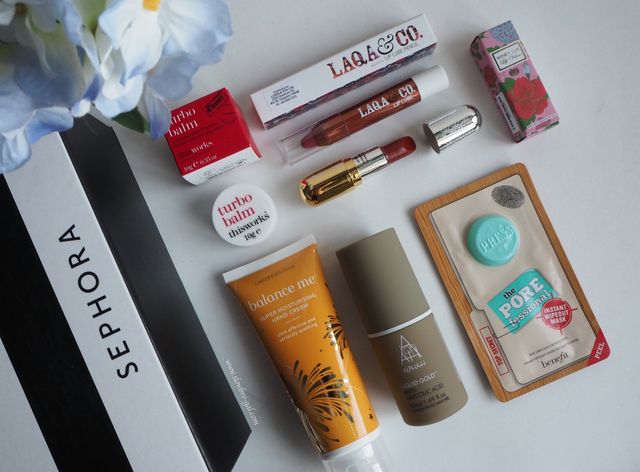 Other brands that available in Sephora.sg
This particular product took me just 5 minutes to fall in love with!! If you're looking for a good smooth and creamy lip color, this will never disappoint you. Now I see why everyone is raving about it. =)
Nudestix Lip & Cheek Dual Pencil (Mystic & Whisper) is now inside my everyday makeup bag!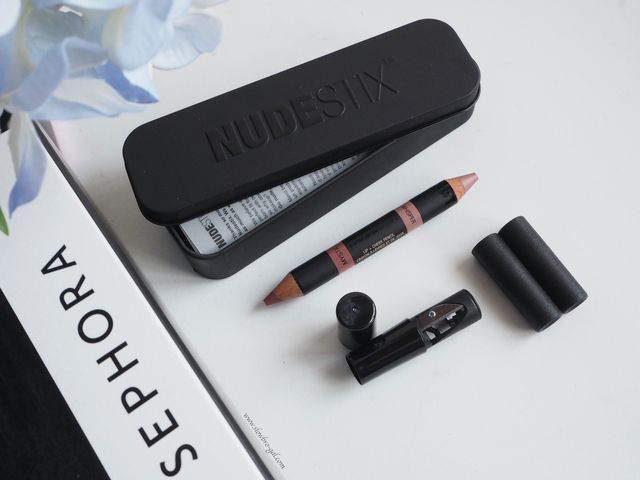 Nudestix was launched in Sephora last month and it has been a hit ever since it launched. I can't believe that I resisted getting them until I tried them out now. It glides on my dry lips smoothy, colors are highly pigmented, packed with vitamins and anti-oxidants!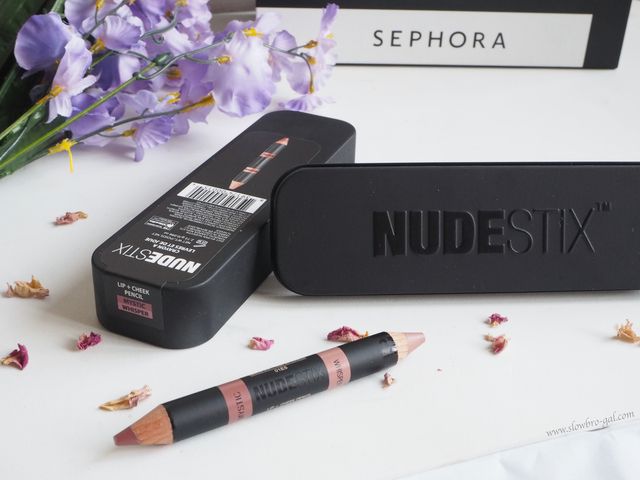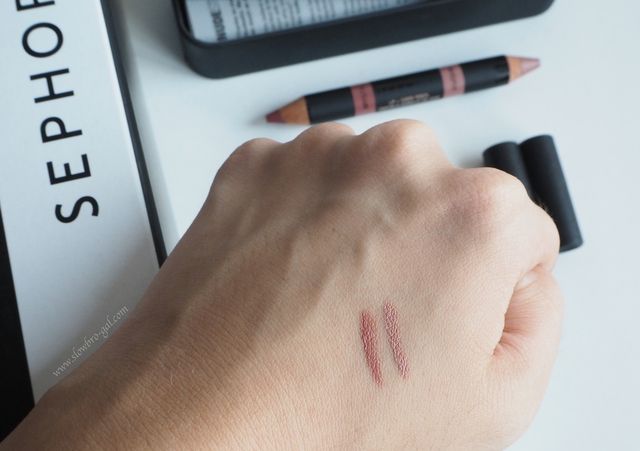 All I can say now is that I'm hooked! I need more of Nudestix in my life now~~ Hopping over to Sephora now to check what colors and other items should I get.
Sephora
promises to deliver all local orders within 2 - 4 business days, and 5 -6 for international orders. Enjoy your free shipping with purchase above S$40.
"...... Bringing your desired beauty products to you by just a click away.........."
Happy Shopping!