I couldn't remember when was the last time I braved myself to a warehouse sale. Going into a warehouse sale is like going to a battlefield. Haha!! (Does that remind you of Estee Lauder Sales?) Last week there was Shiseido Private Sale.

I'd actually shared my 'little' hauls (not little I know =p) from the sale though my Instagram earlier.

D

o follow me if you haven't.
I have to declare

this

again. I am a loyal Shiseido White Lucent user. I have yet to find any whitening products that work far better than this. As a cheapskate me, I only re-stocked my skincare

when there's

sale. I don't

buy

them

at

counter becau

se of this reason.
It's painstaking when you know you can get

the same thing at cheaper price.

Haha!!
Some insight of the sales counter. Nars and Shiseido.
This year there are a few brands which are on sale included both Shiseido, Cle De Peau, NARS

,

ZA, Ettusias, Aqualabel, Majolica Majorca, some hair products from Shiseido such as Tsubaki.
Technically, I ONLY wanted to re-stock my skincare but it wasn't as it planned though. =p
And here's what I got

from the sale:
There are two different types of Shiseido White Lucent travel set ($15). This is one is for dry to normal skin. I really like the cleanser and the emulsion. They works

very well together.
This is the serum set ($

30)
.
Actually,

I don't need any extra serum but this set is good for travel. So it's a keeper.

The actual size whitening serum is selling for only

S$

50. It's such a good bargain to get them.

I actually bought two of the serum

during the previous sale

and
luckily the expiry date is 2016. (Gonna use start them

generously

now. =p)
Did
I mentioned that I l

ike

Aqualabel skincare

a lot.

H

ow could I not resist to buy

?? I got the

Star Product of Aqualabel - Aqua Enhancer, Moist Essence GL and White AC Emulsion for only $12. O_o

And t

hey have the Aqualabel sheet mask on sale too

!
I'd mentioned they

are

Tsubaki hair care set selling

at

$20 for 4

-

shampoo, conditioner, treatment and hair mask. It's such a great bargain but I didn't get any of them. Not because I don't like them but I prefer

my

HG Kao Essential

.
I skipped ZA and Majolica Majorca counter and

bought
the highly raved Ettusais

L

ip essence (Little Twin Star) for $15. I always wanted to get this ever since.... so 50% off retail price is such a score. *Yes!

S

trikes off my wishlist*
I also spotted Ettusais foundation, loose powder, nail

polish,

face mist and body cologne. I wanted to get their face mist but well...I

hardly use them. Next time though. =p
And so thi

s was the

'black box' I meant!! I am a fan of NARS and for the first time their sale wasn't disappointed. So I

snagged some lovely black boxes back home.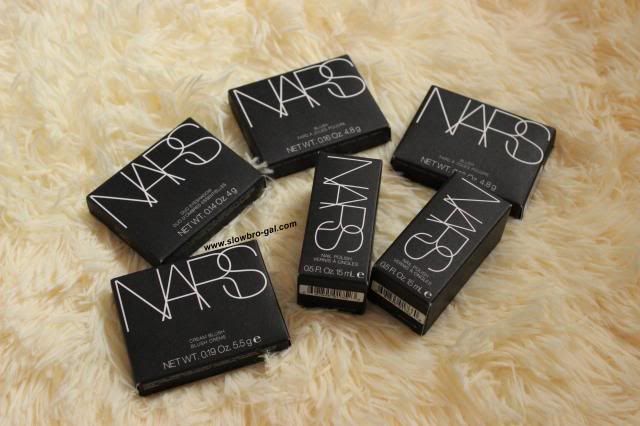 I am surprised that they actually bring on quite a lot of collection on the sale. If you noticed

a

picture

above

, there are single eyeshadows, duo eyeshadows, eyeliners, duo concealer, lip gloss, lipstick, mascara, nail polish, foundation

, blush,

bronzer and even multiples which I really regret I didn't buy them!!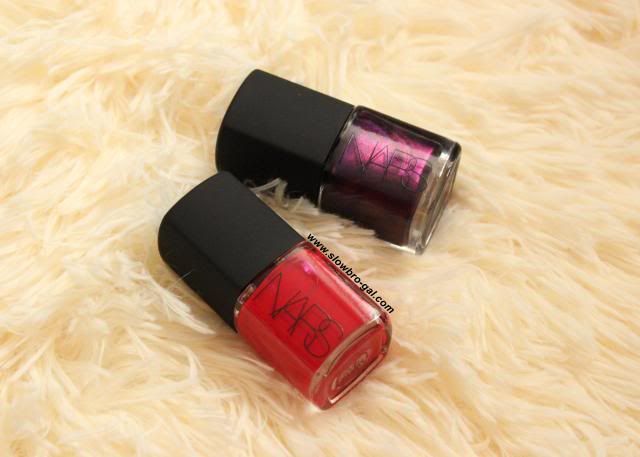 They also had the limited edition Andy Warhol set. I almost bring them home with me! And then I decided I want a full size nail polish

($15)

instead. I

fall in love with the beautiful

Purple Rain and bright red Dovina. Che

ck out my

Facebook for Purple Rain's swatches.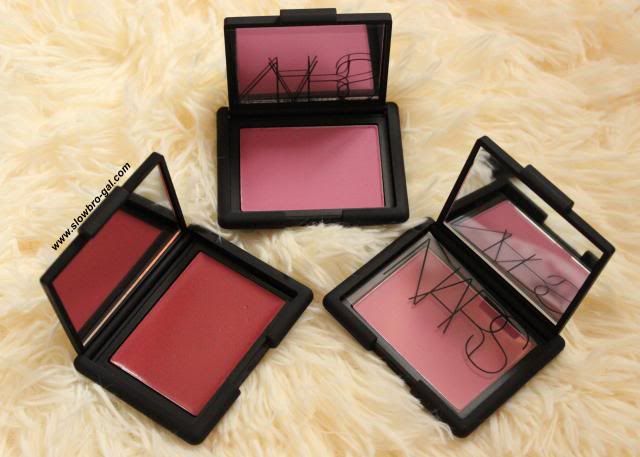 Who doesn't know NARS produced the Mother of all blusher? Was bit disapp

ointed that they doesn't carry much colors during the sale.
I got myself Matahari (another one for someone who's also a blusher freak

)

and cream blusher -Lokoum.

Lokoum is

such a pretty color

in real life!!
I don't have any plan to get any eyeshadow from NARS. Mainly because I don't use them but when I swatche

d

Brousse duo on my hand, I knew this was it!
The taupe is so gorgeous and it's super wearable. You know I

am

a neutral

/brown eyeshadow lovers!
How could
anyone doesn

'

t want them??
This is how I almost empty my bank account. But hey! I did control myself a lot this time round. As much as I wanted to buy the whole NARS collection, I didn't! Lol! If only they have the stuff I wanted from NARS such as my new wishlist Radiant

Creamy Concealer?
Do you girls buy stuff

in your wishlist like me during warehouse sale?
Or sometimes you max out your budget buying some

thing you didn't plan to

?
Share

me your experience.
I would love to hear them!