I am back into my BB cream madness. I guess you will be seeing me review a lot of BB Cream this year?? A lot of you may have the thought that BB Cream clogged pores. In fact, yes it does clog my pores as well. But I recently found a little trick on how to avoid this. I'll share this skincare tip with you'll next time ok? Back to the topic, O'slee – which is a famous skincare in Hong Kong and Taiwan.
Os'lee HD Flawless Rosehip BB Cream SPF26 PA++ gives you flawless nude make up instantly without the help of a foundation, giving your skin translucent whiteness, and providing easy coverage for your pores, dark circles, spots and acne marks.
It is

extremely breathable, oil-free, dissolves in water, and does not clog pores.
O'slee BB Cream has been verified by the SGS to provide SPF26 PA++ protection, and has passed heavy metal safety tests, so you can rest assured of its safety.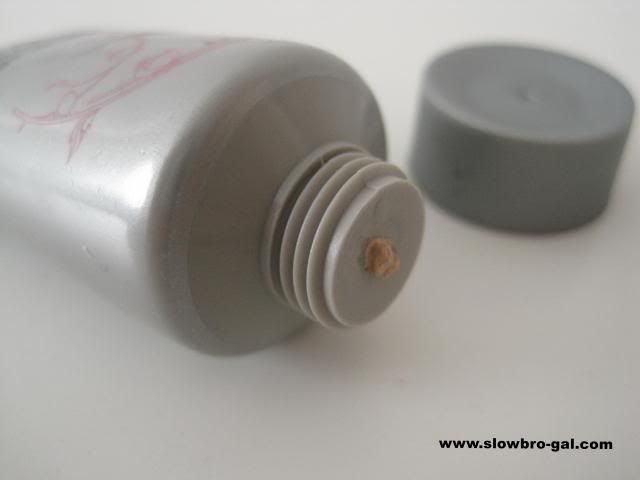 The actual tube of O'slee BB Cream is 50ml. But the one I received is 30ml which I think is a sample size. So I wouldn't comment much on the packaging since the full size product and the one I received it's different from the actual size. The one I had is a normal squeeze tube with grey packaging.
The texture of the BB Cream is very watery. The first time I squeeze the tube, some transparent liquid (water) flow out from the tube together with the bb cream. It irks me a bit, so I immediately shake the bottle and you can hear the watery sound in the water while shaking. The BB Cream doesn't flow out easily from the tube which I think it's bad because you couldn't control the amount that you want to use.
The texture of the BB Cream is very watery and it blends out too smooth. It disappear really quick into your skin once it blended out. One thing about this BB Cream that pull me off is it's heavily scented. The rosehip scent is very strong and it turns to woody scent in a few minutes which I personally couldn't take it. And the scent stay there for a while before its gone.
The name O'slee HD Flawless Rosehip BB Cream sparks my interest on this BB cream. HD base is about how you look perfect and flawless on camera. One of my favorite HD foundation is Sasa HD Perfect Foundation. I really like how it works on my skin and I am expecting this BB Cream should have the same feature (at least).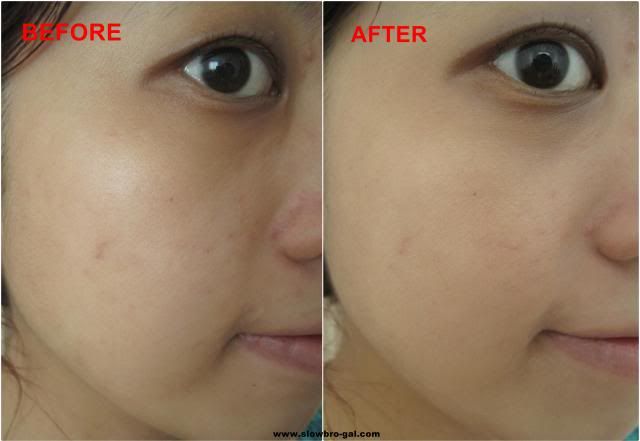 This BB cream gives a sheer to medium coverage. It helps even out my skintone and cover some redness on my skin but my darker scars can still be seen. So I have to use concealer to cover them. The bb cream has a little pinkish undertone. So if you have a yellow undertone like me, if might look a bit fair for you. I used quite a little amount so that I wouldn't look like I'm wearing a mask on.
O'slee BB cream leaves my skin a little dewy look. The oily control is so-so only. About 4- 5 hours of application, my skin started to look very oily. Mind you, I had a dry-combination skin. Looking at the pictures above, this bb cream doesn't give a HD feature as I am expecting. I find the coverage is a bit too sheer for my liking.
Coverage
: Sheer - Medium
Texture : Watery, easy to blend
Undertone : Pink undertone.
Oil-Control: Approximately 4-5 hours (for dry/combi skin)
Dewy-ness: Natural dewy finish
Overall, I don't really fancy this bb cream. I tried my best finding a way to love it, but it just doesn't work on me. Even if I used this as a foundation primer, my skin still gets oily pretty fast towards the lunch time. So if you have a good dry/normal skin, I think this bb cream will work on you. If you wasn't too sensitive towards the scent, you might this a try.
O'slee HD Flawless Rosehip BB Cream is available in all local Guardian & Watsons at RM79.90 (50g). I think there's a promotion now on their products. Next product I am going to search for is their scrub mask. Check them out.