Naruko is one of the highly raved skincare brand in Taiwan founded by Niu-Er Guru (Lao Shi) from Beauty Queen. This is my first facial mask from Naruko skincare line. Naruko Rose & Botanic HA Aqua Cubic Hydrating Mask is a part of the Rose & Snow Fungus collection which is suitable for dry and dull skin.
Naruko Rose & Botanic HA Aqua Cubic Hydrating Mask
is a mask that can help lock the moisture in to keep your face hydrated 24hours a day. It also helps to brighten, soothe, and improve the skin's overall condition.
Specially made with CE booster to improve your skin's overall condition. It helps with skin's absorbance, increases metabolism, and allows the skin to quickly absorb Hyaluronic Acid, Snow Fungus Extract, and Allantoin.
All worked together to provide your skin with 24-hour moisture.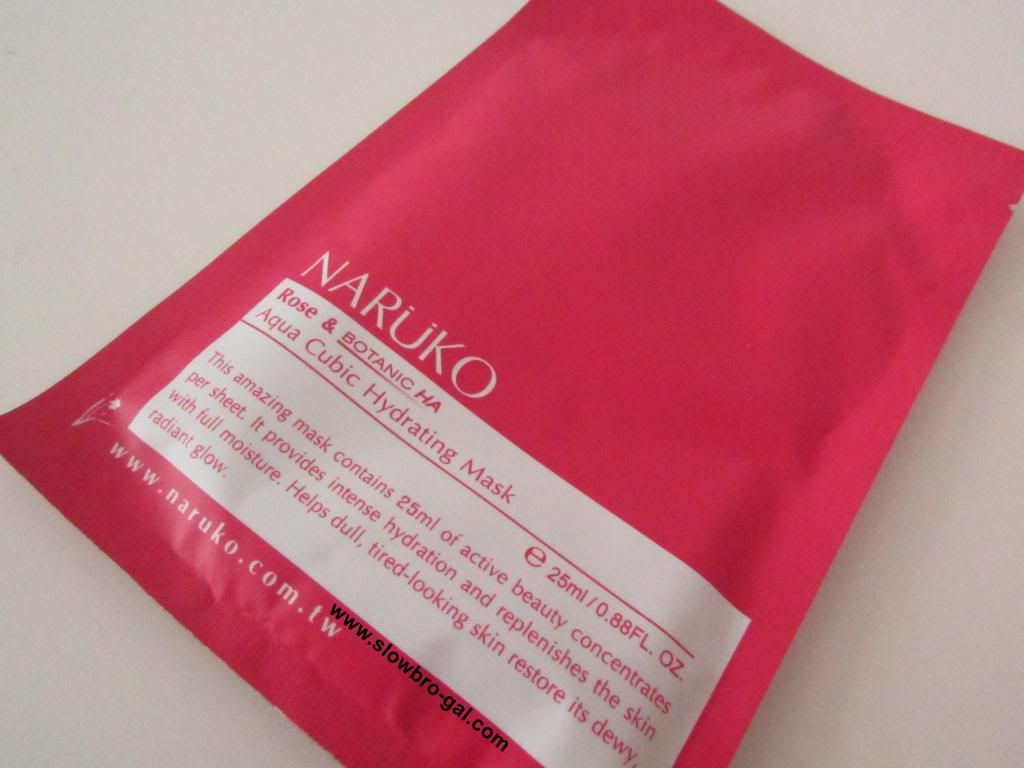 The packaging is pretty simple compare to other masks from Taiwan I have. The 25ml packaging itself is quite heavy as it seems to contain a lot of serum inside.
All skin type especially dry and flaky skin.
Texture/Scent:
The sheet mask itself has a very thin tissue layer which quite easy to tear it off by accident. One thing I don't fancy much on the mask, it doesn't really stick into my face. I have to lie down while masking else it will slide off my face. Lol!
I really like the subtle rose scent of the mask. It's very calming and relaxing :)
My say:
Usually I will wear a mask for 20-30minutes depending on how dry the mask is on my face. But after 30 minutes of masking, the mask is still quite wet. So I used the mask to wipe on my hands and legs. (Don't waste)
As stated, this mask is mainly for hydrating
effect. I wasn't too convinced on the hydrating effect because I felt my skin look the same except a bit fairer. Here's the picture for comparison:
From the picture, you can see my face seems to brighter and smoother. As I am not convinced on the result, I used my moisture analyzer to test. Wow!

My

hydration level

increased by 8%

! Not too bad but

I am expecting my water

level to be

full

bar

though

.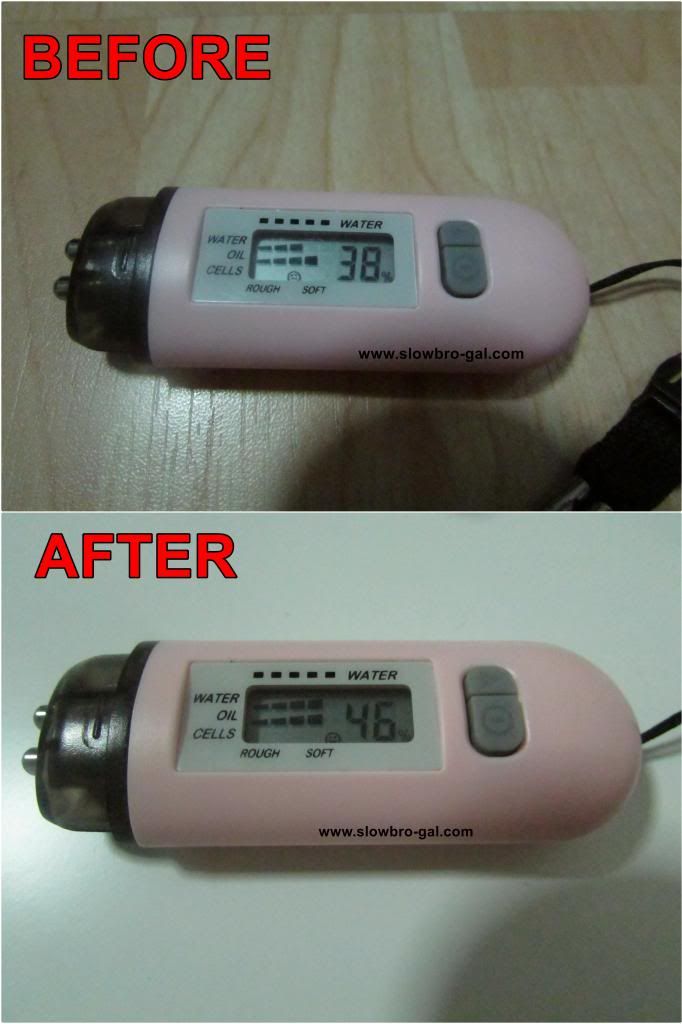 When I look at the mirror after masking, I felt my skin look a bit too dry and in need of moisturizer despite the moisture analyzer giving good result.
Probably because it doesn't give me the glow effect I am looking for.
I do think that it penetrates moisture into my inner skin but not enough to generate it to my outer skin. (Do anyone understand what I mean here huh??) Maybe that's why the water level isn't in full bar.
Whitening Rating

- 3 stars
Hydrating Rating

- 4 stars
Absorption Rating

- 4 stars
Fitting to skin Rating - 4 stars
Rating: 3.6/ 5
Overall, this mask is good for

hydration and people who have very dry skin.

Probably because my expectation for Na

ruko products

are

higher. Haha!
Maybe it just doesn't works on my skin, so
if you get a chance to try it please share it with me. =)
If you're interested in trying Naruko product, you may purchase from their website.
The Naruko Rose & Botanic HA Aqua Cubic Hydrating Mask is having promotion of Buy 1 Free 1 now. Please check out the respective Naruko authorized agents for more information.
Naruko Ta

iwan
Naruko Malaysia
Naruko
Singapore
Naruko USA
*Please only buy from authorized agents to avoid counterfeiting*