I did my
Nice & Naughty List 2010
last year after my favorite beauty blogger,
Jen
did so. I decided to list down the same list for this year and drafted this post out a few weeks ago. Apparently,
Jen
did the same thing too.
(You guys just gonna check her blog- she's awesome!)
Since Christmas is over, Santa won't make it for my list. Therefore, Smurf is the one who's going to coordinate the award list for this year.
( I 'smurf' you!!)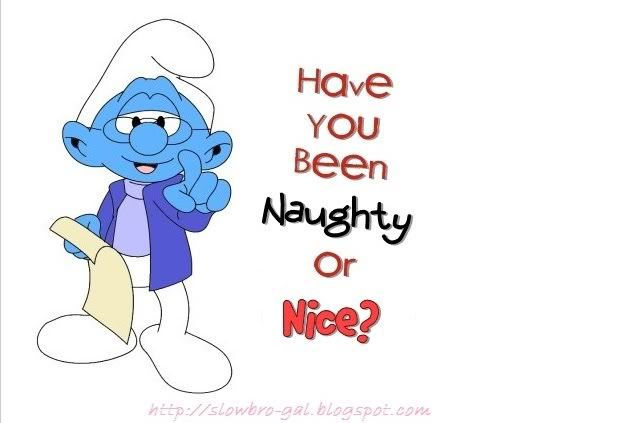 The list featured top 5 favorite products and 5 most disappointing products for this year. Let's Smurf bring you the Naughty list!!
NAUGHTY LIST
1)
Herbal Essences Shampoo
I tried Herbal Essences Shampoo ages ago and it wasn't a good experience for me. After years, I decided to give it a shot as I believe they should have improve their formula and packaging too. And I didn't know why, I love the smell of the shampoo but every time after wash, it makes my hair sooo DRY...I am so sorry for you all who love this but I just didn't think this works for me.
2)
Maybelline Great Lash Mascara
I love Maybelline mascaras!! It is my first mascara brand and I love them. I bought this mascara around RM10 during promo so it's definitely cheap!! But seriously, this mascara is very disappointing. I am not sure what formula did they used for this but when I applied, it does a very little lengthening and volume on my lashes. It make my lashes feels droppy and it clumps!! Gosh..Don't mentioned about the flakes and smudge as well. *sigh*
3)
Maxi Eyes Contact Lens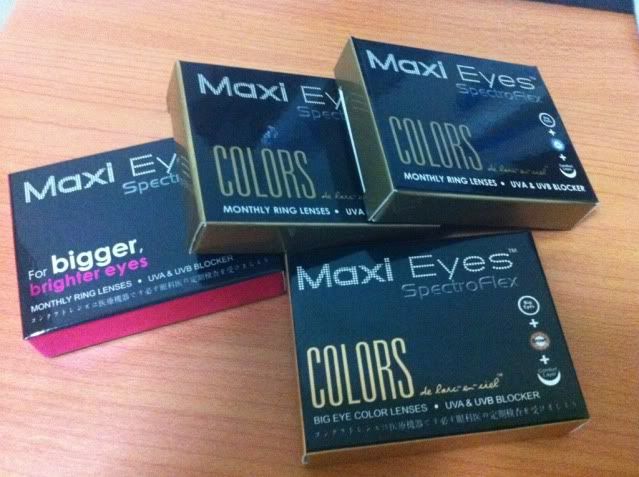 I bought this from Spectacle Hut last month during promo and I swear I hate them!! Not because they doesn't make you look good, it's because it is not comfortable at all and it gives me red eyes!! Maybe I am exaggerating but I got an eye infection weeks ago because of this contact lens. I am not going to use them anymore despite the price. Trust me, GEO lens works far better than this and even more comfortable.
4)
Avon Glimmersticks Diamond Eye Liner
I love their normal Glimmerstick eyeliner but....This glimmersticks Diamond I have is very very disappointing. Why? It is very hard to work with. It glides smoothy and it's very soft that it tends to break off easily while you apply. Ouch..And since it called Diamond, i would expect some sparkly effect but it gives me a neon effect instead. Not sparkles or shining at all. :(
5)
Love More Aqua Brulee Intensive Hydrating Care

As this was introduced in the famous Taiwan Queen TV Show, I am convinced to get this. When I apply foundation/BB Cream after this, I saw cracks on my skin. Oh no!! My skin's still very dry. I do enjoy the gel texture on massaging into my skin, but it does not gives me what I am expecting and the price is not cheap at all for S$26.90. Even Garnier Aqua Defense Essence works better. :p
NICE LIST
1)
Clarisonic Mia Sonic Skin Cleansing System
I do not need to talk much about this as I knew everyone of you here had heard so much about this. I bought Clarisonic Mia approximately about a month ago and start using it everyday now. And it's my staple everyday now. At least with this, my skin's feel much more cleaner and clearer now. I'll probably do a review soon.
2)
EOS Lip Balm
This cute little round ball is my new obsession!! Besides it's an organic lip balm, it makes my lips moisture, softer and smoother. Ever since I had this ezcema on my lips, I've been using this and it's really yummy and sweet that sometime I love to lick my own lips.
(Gosh, this sounds so wrong...)
3)
Maybelline Clear Smooth BB Cream
This is one of the drugstore BB cream I am very impressed with. It doesn't left me with any white cast and matches my skintone very well. I used this to work everyday and it doesn't give me any breakouts. Two thumbs up for this awesome product! I gonna review this too..
4)
Neutrogena Fine Fairness Deep Whitening Mask
I heard the raves of this mask since ages ago but it was tooo expensive to purchase them. Until recently when Watson is selling this in pieces for like $2.90/pcs, without any hesitation I picked this for trial. And guess what, I am sooo in love with this mask. It makes my skin felling so soft and so smooth~~ No breakouts at all. And so then, whenever there's promotion in Watson I'll hunt for this.
5)
Kiss Me Kirei Hada Sunblock
This is one of my favourite sunblock It gives a pearly glow and really blurs pores, with slight shimmer, and really gives a dewy skin effect. Since the texture is very watery and powdery feel, it doesn't make your skin feel oily and sticky!! No more smelly sunblock smell and i like how it can be use as makeup base making my a bit tan face feeling so natural too.
That's sum up my 2011 Favorite and disappointing products. How about yours? Do share with me your list as well. Btw, since today is the last day of 2011, may I wish everyone of you
HAPPY NEW YEAR!!!